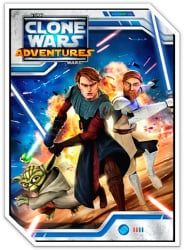 The rumors of a casual Star Wars MMO turned out to be true. Sony Online Entertainment announced Star Wars: Clone Wars Adventures today, a kid-oriented MMO based off the Clone Wars animated series on Cartoon Network.
Clone Wars Adventures is free-to-play. However, an optional subscription will give you access to additional content. The MMO also supports microtransactions; players can buy new items with Station Cash, a currency that is in turn bought with real-world money. The rest of the game features are described thusly by SOE:
Extend the Fantasy: Kids no longer have to wait until the next exciting episode of Star Wars: The Clone Wars animated TV series to continue exploring and enjoying the Star Wars universe. With Clone Wars Adventures, kids can go online to experience exciting thrills as you duel iconic adversaries with your own custom lightsaber, speed through the galaxy in your starfighter, defeat enemies and take down starships. Adventure online to discover your destiny!
Play Free or Upgrade: Clone Wars Adventures is a free-to-play game, but players who want to take the galactic action to the next level can purchase a monthly membership. Players can also buy cool Star Wars universe items from within the game through micro-transactions using Station Cash.
Minigames & More: From Droid Programming to Speeder Bike Racing, Clone Wars Adventures puts you in the driver seat to experience epic action in immersive minigames that take you to your favorite locations in the galaxy. Become the proud owner of a tricked out Droid pet or throw a party in your player house - the fun is endless!
Fun With Friends: Whether you are on adventures with old friends or competing for leaderboard status with new ones, Clone Wars Adventures is a lively virtual world that connects players in fun and safe ways. Show off your achievements in your Trophy Room, use safe chat and emoticons to express yourself and celebrate in-world events with the entire galaxy!
Embedded Card Game: Clone Wars Adventures card battles lets players pit a variety of fun characters, creatures and vehicles from The Clone Wars television show against one another in a unique, fast-paced combat similar to the gameplay styles of traditional games such as War and Concentration.
Kid-Friendly: Parental controls allow for the customization of safety options, including pre-canned chat and playtime settings for younger players.
You'll be able to pick up Clone War Adventures this fall.
Your Daily Blend of Entertainment News
Staff Writer at CinemaBlend.