State Of Decay Sells Over 500K Copies, Sandbox Mode And PC Version On The Way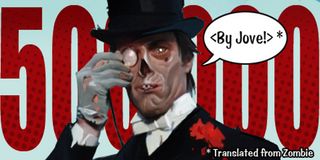 Undead Labs' debut game State of Decay sold over 500,000 copies in its first week. This makes Decay the fastest-selling original game ever released through Xbox Live Arcade.
State of Decay, which debuted on June 5th, is an open-world zombie game. Players must lead a group of survivors in the wake of the outbreak. They'll choose a home base and then upgrade it using materials scavenged from the countryside. They will also have to make regular supply runs to ensure that their group has enough ammo and food to survive.
As I said when the game hit the 250K mark, the record-holder for all Xbox Live Arcade titles is Minecraft Xbox 360 Edition. Unlike Minecraft, though, State of Decay wasn't already a global success before it debuted on XBLA. I'd imagine most people hadn't even heard of the game or Undead Labs. Decay's huge launch came as a big shock, then, especially to its developers.
"We didn't know what to expect," executive producer Jeff Strain said of the sales milestone during a chat with Xbox Wire (opens in new tab). "State of Decay breaks a lot of rules. Permadeath, switching characters, having to manage the "feelings" of your fellow survivors, offline progression — these are all things developers traditionally avoid, but we felt were essential to creating a true survival experience."
While Decay is currently only available on Xbox Live Arcade, Undead Labs is developing a PC version as well for release through Steam. The PC version has been in development ever since they started work on its 360 counterpart, so it's not as far away as you think. Stain says that they simply need to add Steam integration as well as mouse/keyboard support. No release window has been provided, but it doesn't seem unreasonable to expect it before the end of the year.
Undead Labs is continuing to refine the Xbox 360 version as well. The first title update was released last week, albeit in a broken state. UL hopes to fix that patch soon and also release a second title update. The dev team says on their website that Title Update 2 is in the early stages of certification.
Strain mentions that the development team is making a "sandbox mode" that will be a "pure survival simulation." Presumably it's a version of the game with all the story elements removed. Or maybe there's no base-building, so you just have to head out on your own and see how long you can last.
"Beyond that, all I can say is we pay very close attention to what fans of the game are asking for, and their needs will largely guide our development priorities, so stay tuned."
Presumably Strain is hinting at multiplayer there. During State's development, the team decided to hold off on co-op so that they could polish up the core aspects of the game. However, as they say in the official FAQ, they want to "offer some kind of co-op multiplayer option" at a later date.
Your Daily Blend of Entertainment News
Staff Writer at CinemaBlend.
Your Daily Blend of Entertainment News
Thank you for signing up to CinemaBlend. You will receive a verification email shortly.
There was a problem. Please refresh the page and try again.