Stranglehold Special Edition Is Exclusive To The PS3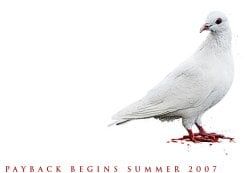 John Woo's Stranglehold Collector's Edition for the PlayStation 3 has just been announced, and it's quite cool if I must say so myself. This full featured game will not be the only thing on the massive Blu-Ray disc, but PS3 owners who purchase the Collector's Edition will also receive a complimentary, full-length feature of John Woo's Hard Boiled.
Let's face it, there's no third-person shooter coming out anytime soon that's going to be as hard boiled, as tough, as cool, as kick-butt as John Woo's Stranglehold. Though I wish the game would have been directed by the master of gun-slinging action movies, it at least still has some of his directorial nuances. But what's more, is that the wait is nearly over for this next-gen shooter and PS3 owners will have the special, optional treat of acquiring the Collector's Edition this summer.
"We are very excited to be offering PS3 owners this exclusive collector's edition of Stranglehold, complete with John Woo's classic film 'Hard Boiled'," said Steve Allison, chief marketing officer, Midway. "Thanks to SCEA, the Blu-ray Disc Association and The Weinstein Company, fans will now be able to fully experience the world of John Woo in one complete and special package."
The press release contained a little bit more jabber talk, as Riley Russell, senior vice president Third Party Relations and general counsel, SCEA commented that..."The exclusive collector's edition of Stranglehold demonstrates the power of PlayStation 3 Blu-ray disc and the total entertainment experience that can only be found on PlayStation 3," He continued on to say, "The 50GB capacity of Blu-ray disc allows PS3 content publishers to do things simply not possible on our competitor's 9GB DVD-based systems. Thanks to the advanced technology found in PS3, developers like Midway can truly realize their visions, bringing consumers even closer to the game."
You can visit the Official Stranglehold Website for more details, media and information.
Your Daily Blend of Entertainment News
Staff Writer at CinemaBlend.