THQ Brings Age Of Conan To Xbox 360 And PS3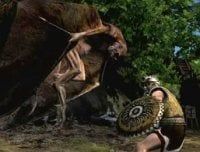 Age of Conan has already racked up a pretty darn good following since its preview movies at E3 2006. With constant updates of the game's progress showcased through trailers and gameplay footage, gamers have only become more excited about Age of Conan's release. Well, you can get a little bit more excited because THQ is bringing this game to the Xbox 360 and PS3 in 2008.
The news probably doesn't rock the foundations of the video game community. However, it will spark a lot of interest from console gamers who may have been envious of PC gamers, due to the originality present in Age of Conan. The game features unprecedented combat and interactivity that few other games could possibly imitate and it's a graphical masterpiece. The game is so brain-teasingly good, I think I know of a couple of people who would marry it, if it were human. Really.
"The strength and diversity of the Conan brand lends itself extremely well to the interactive format," said Jack Sorensen, executive vice president at THQ. "Through intense combat, familiar environments and next generation visuals, we believe Conan fans and action adventure enthusiasts alike are certain to embrace this future addition to the Conan universe."
"The Conan brand has captured the hearts of dedicated fans for 75 years," said Fredrik Malmberg, President and CEO of Paradox Entertainment. "We have enjoyed tremendous success with our brand extensions and look forward to working with THQ to bring this upcoming chapter of Conan's ambitious journey to a video game format."
For more information regarding Age of Conan be sure to visit THQ's Official Website.
Your Daily Blend of Entertainment News
Staff Writer at CinemaBlend.