Tekken 6: When Foot-Meets-Face Screenshots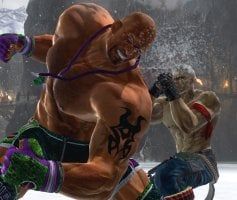 A truckload of new screenshots have surfaced for Atari's and Namco's upcoming fighting game, Tekken 6. If you're wondering why the game is being published by two completely different companies, I'll just briefly sum it up with this: It's the crappy economy.
Featuring pugilists of all kinds, from various martial arts backgrounds, character customization options, accessorial upgrades and more modes than you can shake a stick at, Tekken 6 will be one of the biggest fighting games released this year. That doesn't mean it will be one of the best, though.
The game is scheduled for release later this year for the Xbox 360 and PlayStation 3. You can check out some of the characters' new outfits, as well as get in some viewing time for some face-meets-foot action. For more info on Tekken 6 and a complete rundown of the features, feel free to visit the Official Website.
Image 1 of 12
Your Daily Blend of Entertainment News
Staff Writer at CinemaBlend.