Time Crisis 4 Warps To PS3: New Trailer, New Game, New Console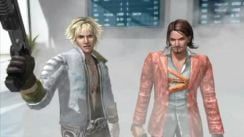 The omega-popular arcade shooter, Time Crisis, has its latest iteration coming to the home consoles...well, Sony's home console, the PS3. With a whole new first-person mode, a newly designed Guncon and more bullets fired than A Better Tomorrow and The Killer combined; Time Crisis 4 is going to be the ultimate human-shooting gallery.
. "The Time Crisis franchise is known for delivering an immersive experience that completely captivates gamers." Makoto Iwai, Senior Vice President, Namco Bandai Games America said, "With Time Crisis 4 on the PlayStation 3 system, we have enhanced the experience by redesigning the Guncon, and evolved the series to address what gamers have come to expect from the shooter genre – FPS gameplay. We are confident that the gameplay in Time Crisis 4, as well as a variety of enhancements made for the PlayStation 3 system, will draw players into the Time Crisis universe like never before."
The best part about the game, hands down, is the FPS mode that allows players to freely traverse through the stages. That's going to kick major buttocks. And I'm sure even some girl-gamers might get a kick out of playing an Orlando Bloom look-a-like.
But back to business...below you'll find a trailer of the game, which pretty much scrolls through all the necessary jaw-dropping aspects of the game; it looks great, it moves fast and it's exclusive for the PlayStation 3. Let's just hope the reason that it's not appearing on the 360 is because of the "amount of enemies on-screen" or the "processing power". Those excuses should only work when the games look better than Lost Odyssey and has more bad guys on-screen than 99 Nights. But hey, maybe honesty will prevail and the team will acknowledge that it just suited them better to make it exclusive for the PS3. Enjoy the trailer below.
Staff Writer at CinemaBlend.
Your Daily Blend of Entertainment News
Thank you for signing up to CinemaBlend. You will receive a verification email shortly.
There was a problem. Please refresh the page and try again.