Titanfall On Xbox 360 Is 600p, 46fps; Titanfall On Xbox One Is 792p, 57fps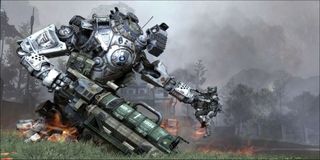 Well the stats are in folks and the numbers don't lie. All that worry about Titanfall on the Xbox 360? Well, throw it out the window, light a match and break some wind on it because those worries can be put to rest like fears of your paraplegic spouse cheating on you... while in a coma.
Digital Foundry rolled out a performance analysis of the game on Microsoft's last generation, old-as-a-worn-sandal-in-Afghanistan console, the Xbox 360. My initial fears about the game's resolution were confirmed, as Digital Foundry did a detailed print out of the line data and it appears the Xbox 360 is running the game native 1040x600 with progressive scanning and MSAA set to 2X, meaning that it cleans up the image as much as possible with very little performance loss. This is opposite of the Xbox One, which runs at 1408x792 with 2X MSAA progressive scanning upscaling to the output resolution.
For the quote-worthy segment: The Xbox 360's 1040x600 resolution is a difference of 500,736 pixels from the Xbox One's 1408x792 output. In other words, there is a smaller resolution difference between the Xbox One and the Xbox 360's resolution of Titanfall than there is a difference between the Xbox One and PS4 running Assassin's Creed IV, Battlefield 4 and Call of Duty: Ghosts. In fact, Battlefield 4 on Xbox One at 720p compared to the PS4's 900p output is a difference of 518,400 pixels.
Simply put: the Xbox 360's version of Titanfall is closer in resolution to the Xbox One than the Xbox One games with lower resolution are to the PS4.
Tough apples to swallow, eh?
But what about performance? What about maintaining steady frame-rate? Well, check out how well Titanfall on the Xbox 360 performs below.
Digital Foundry notes that the game averages 46.5 frames per second. The game actually seems to hover around 40 frames per second with light action on the screen and it drops down to about 31 frames per second when in or around titans. The Xbox 360 also idles at around 51fps, which is definitely "above 30fps" that Bluepoint Games publicly admitted prior to release.
By comparison, the Xbox One manages 60fps in idle, hovers around 57fps during on-foot combat and drops down between 31 and 45fps during Titan combat. On the Xbox 360, you're losing on average 10.5 frames per second in gameplay performance.
As noted in the analysis by DF...
I would have to say, to be a geriatric old piece of silicon and plastic, the Xbox 360's version of Titanfall isn't too far off the performance grade from its newer, bigger sibling. Of course, you'll have to deal with muddied, washed-out textures, lower frame-rate and lower resolution at a price difference of about $390 compared to what you would pay to get the game and an Xbox One from Target, as noted by GamingBolt.
You sort of have to question: Is 10.5 frames, 500,736 pixels and higher texture resolution worth $390?
Otherwise, the 360 version of Titanfall is hailed to be feature-rich just like its PC and Xbox One counterparts. If you were holding off on getting an Xbox One because you were worried about a serious performance hit on the seventh-gen wonder, as I mentioned at the top of the article: Lay those worries to bed, because you'll be up all night playing Titanfall on your Xbox 360.
Staff Writer at CinemaBlend.
Your Daily Blend of Entertainment News
Thank you for signing up to CinemaBlend. You will receive a verification email shortly.
There was a problem. Please refresh the page and try again.