Top Spin 2 Ships Some Serves For PC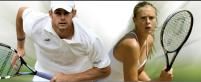 Aspyr has recently announced that the smash hit tennis game, Top Spin 2, has now shipped for PC. The ball-and-court visual masterpiece that bounced its way to the top of the charts for the Xbox 360 will now see the light of day on the 360's unofficial hardware relative.
The surprising thing about the announcement of the game's availability is that Aspyr is letting the game loose on retail shelves for only $19.99. That's really an amazing deal to be brand smacking new. What's also kind of cool is that the game supports up to four-players on a single PC. And to think, I thought hotseat gaming on new PC games was dead. There's also free online multiplayer gaming via internet or LAN, and the control scheme will be compatible with both the keyboard and mouse, and analog gamepads.
Now if you've honestly read this far without knowing what Top Spin 2 is, I think I'll let you feel ashamed without rubbing in the fact that Top Spin is one of the best selling tennis games of all time. For more information you can visit Aspyr's Official Website.
Staff Writer at CinemaBlend.
Your Daily Blend of Entertainment News
Thank you for signing up to CinemaBlend. You will receive a verification email shortly.
There was a problem. Please refresh the page and try again.