TowerFall: Dark World Shoots Up PS4, PC Next Week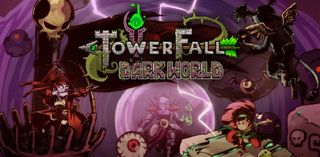 Since its original launch on Ouya and subsequent journey to PlayStation consoles and PC, TowerFall has made a big splash in the party gaming scene, giving players plenty of reasons to frantically mash away at their controllers while zipping around arenas and shooting arrows at their friends. For those of you who are still thirsty for more, Matt Makes Games has announced that the highly anticipated DLC, TowerFall: Dark World is finally ready to launch on Tuesday, May 12.
Developer Matt Thorson made the new official over on the PlayStation Blog this weekend, sharing loads of details about what players can expect out of the big update. Along with that May 12 launch date, we now have a price of $9.99.
According to Thorson, the Dark World expansion started out as a pretty tame set of updates, but has since blossomed into a quiver full of quality content.
"When we set out to create an update for TowerFall, we didn't expect to take it this far," he said. "What started as a single new level set with a new archer ballooned into four new level sets, 10 archers, procedurally generated levels, a new co-op mode, boss battles, new powerups and more."
In other words, the Dark World DLC nearly doubles the content of an already robust party game.
For fans of old-school screen-watching tactics in games like Golden Eye, Thorson went on to highlight one of his favorite additions in the new DLC, the Trigger arrows. Basically, you shoot them into a wall and, when someone gets too close, you trigger them to detonate. Since everyone's playing on the same screen in TowerFall, you can't be called out for cheating like in the classic 007 game.
That, of course, is only one of the new powerups you'll be taking advantage of in Dark World, many of which can be seen in the newly released launch trailer. Another big addition is the new four-player cooperative mode, which doubles the number of companions able to work as a team from the core game. These are, of course, populated with all new bosses, meaning you'll have to think up some new tactics while trying to take out the big baddies as a team.
If you missed out on the latest PlayStation Underground, the digital magazine recently tackled TowerFall: The Dark World, showing off loads of gameplay for the new expansion.
Basically, all of that boils down to one simple thing: More TowerFall. If you've ever played the game, especially with a group of friends, then you probably understand why those two words alone are more than enough to get folks pumped for next Tuesday.
Staff Writer for CinemaBlend.