Two Worlds II: Pirates Of The Flying Fortress Screenshots Emerge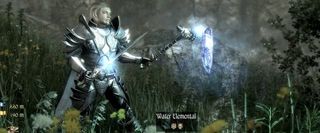 Topware Interactive and Reality Pump are currently working hard on the new expansion pack for Two Worlds II called Pirates of the Flying Fortress. The new expansion looks remarkably gorgeous and the updates to the engine and gameplay are almost immediately visible in the screenshots. Speaking of which, Topware let loose a brand new batch of sparkling new screenshots for Two Worlds II featuring some revamped combat, dynamic environments and a little looting on the side.
As stated in the press release…
The thing that kind of bothers me is that this sort of motto should be applied to all games. I mean, why is it that only after releasing the second game they decide to make a true expansion for the fans? What happened to just making sure every game is made top notch for the fans? Maybe the original Two Worlds would have fared slightly better.
Anyway, I guess it's better they bring quality to the table late than never. The open world, adventure RPG's massive expansion is set to release on PC, Xbox 360 and PS3 this September. You can scope out the brand new screenshots below or take a trip over to the Official Website to learn about all the new goodies added to the expansion.
Image 1 of 5
Your Daily Blend of Entertainment News
Staff Writer at CinemaBlend.