UFC Undisputed 3 Career Mode Features Walkthrough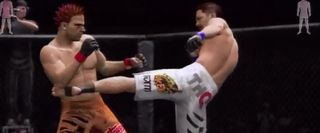 If you're already stoked for the upcoming THQ fighter, UFC Undisputed 3, then there's probably not much of a reason for you to watch the following walkthrough video unless you just want to. If, however, you've been teetering on whether the game is worth a purchase or if it has the kind of features you really want out of a fighter, then the following career mode walkthrough video might be a perfect fit.
THQ released the trailer in hopes of giving gamers a nice detailed look at some of the new features and functions of career mode without completely spoiling it. I think the walkthrough video does a perfect job of setting up the general gist of what's been improved, enhanced and modified while at the same time leaving a lot for players to discover on their own when they finally get their hands on the game. Check it out below.
Some of the punching animations look as if they've been hit with a bit of a frame-rate cap but otherwise the game looks pretty good. I was hoping that some of the moves would connect a little bit more but I guess THQ is trying to keep things Teen oriented and not move into the Mature rated territory that 505 and Kung-Fu Factory did with Supremacy MMA.
Anyways, UFC Undisputed 3 is coming along nicely and a demo is currently available on the PS3 and Xbox 360 if you were interested in trying it out. If the above career mode walkthrough got you all geeked up and excited enough to want to buy the game right now, feel free to pre-order from the Official Website or wait for it to hit a local retailer near you beginning February 15th.
Your Daily Blend of Entertainment News
Staff Writer at CinemaBlend.
Your Daily Blend of Entertainment News
Thank you for signing up to CinemaBlend. You will receive a verification email shortly.
There was a problem. Please refresh the page and try again.