Ultimate Marvel Vs. Capcom 3 Cinematic Trailer Hypes The Launch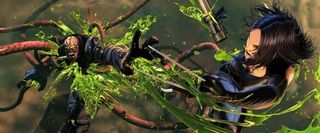 Cross-over fighting game Ultimate Marvel Vs. Capcom 3 will be hitting stores across the world this week. Capcom is commemorating the occasion by releasing the five-minute cinematic trailer.
"You've likely seen bits and pieces of this already - likely from TGS or other events - but this is the first time it's been presented in one uncut video," reads a post on the official Capcom blog. "If you're a fan of epic stare-downs and Inception-style horns, hoo boy, you're in for a treat..."
UMvC3 features the original 36 characters from MvC3 as well as 12 new combatants like Jill Valentine and Ghost Rider. It also introduces new game modes and improves the netcode from the original.
The game will launch on November 15th in North America and on the 18th in Europe.
Staff Writer at CinemaBlend.