Ultimate Marvel Vs Capcom 3 PS Vita Screenshots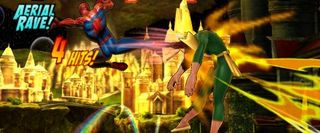 Capcom released a nice helping of new screenshots for the upcoming Ultimate Marvel Vs Capcom 3 for the PS Vita, including in-game shots of your favorite heroes and legendary video game icons battling it out for supremacy.
Ultimate Marvel Vs Capcom 3 brings all the hard-hitting action from the standard Marvel Vs Capcom 3 as well as the Ultimate version of the game into one content-rich portable experience. Additional Gold Herald color schemes are also available for each of the fighters, along with the new replay and spectator modes allowing gamers to share or watch matches via the game's WiFi functionality.
What's more is that Capcom and Sony has enabled PlayStation gamers to integrate play experiences via cross-platform compatibility, meaning that you can use the PS Vita to play Ultimate Marvel Vs Capcom 3 on your PS3...almost identically to the way the Wii U's WiiPad can be used, which is quite nifty if I must say so myself.
You can check out the new screenshots for the game below or look for it to launch at local retailers February 22nd for the PS Vita. Need more info? Feel free to hit up the Official Website.
Image 1 of 10
Image 2 of 10
Image 3 of 10
Image 4 of 10
Image 5 of 10
Image 6 of 10
Image 7 of 10
Image 8 of 10
Image 9 of 10
Image 10 of 10
Staff Writer at CinemaBlend.
Your Daily Blend of Entertainment News
Thank you for signing up to CinemaBlend. You will receive a verification email shortly.
There was a problem. Please refresh the page and try again.