Ultra Street Fighter 4's Fifth New Character Is Decapre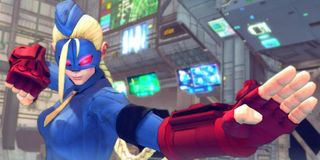 Capcom has finally revealed the final new character for Ultra Street Fighter 4. The new addition to the roster is Decapre, a young woman who might look familiar to series vets.
Decapre is one of M.Bison's Dolls, a group of teenage girls kidnapped and brainwashed by Shadaloo. They act as M.Bison's bodyguards and hitman. Decapre appeared as an NPC in Street Fighter Alpha 3. However, Ultra Street Fighter 4 will be her debut as a playable character.
She looks like Cammy with a blue jumpsuit and flight attendant hat. Her main weapons are a pair of energy claws. Capcom says she's an elusive combatant who can utilize Psycho Power to punish opponents.
Decapre is one of five characters being added in Ultra Street Fighter 4. The other four - Poison, Hugo, Elena and Rolento - were announced along with the game back in July. Capcom's been teasing the fifth mystery character since that time. Hopefully Street Fighter fans find Decapre to be worth the months' of hype.
Ultra Street Fighter 4 also rebalances Super Street Fighter 4: Arcade Edition's 39 characters based on fan suggestions. Capcom is also adding new modes and features. For example, "Edition Select" lets you use previous Street Fighter 4 versions of characters. Players can battle in six new stages, including Cosmic Elevator and Half Pipe.
US4 will debut in early June on the Xbox 360 and PS3. Super Street Fighter 4 and Super Street Fighter 4: Arcade Edition owners can purchase Ultra's content as a $14.99 digital upgrade to their existing game. PC gamers will be able to buy this upgrade in August for the same price. The full game will be available in August as well for $29.99 on PC or $39.99 on PS3 and Xbox 360. The full versions will come with all costumes previously released in the series.
Image 1 of 6
Image 2 of 6
Image 3 of 6
Image 4 of 6
Image 5 of 6
Image 6 of 6
Staff Writer at CinemaBlend.