Uncharted 2: Game Of The Year Edition Announced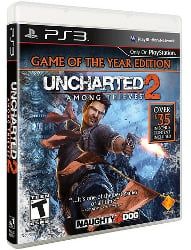 The first-year anniversary of Uncharted 2: Among Thieves is a few weeks away. Sony will be celebrating the occasion by re-releasing the game.
The Uncharted 2: Game of the Year Edition ($49.99) will arrive on October 12th in North America. Along with the game, it includes a download voucher for the following DLC:
PlayStation Heroes Skin Pack
UNCHARTED: Drake's Fortune Multiplayer Pack
UNCHARTED 2 Siege Expansion Pack
Currency Multiplier which grants Double XP up to level 10 in Multiplayer
Golden Guns option for the AK-47 and the 92FS 9mm pistol for use in Multiplayer
Early access to "Revenge" Booster – you still have to purchase it with in-game cash!
UNCHARTED: Eye of Indra – Motion Comic Bundle (which includes Episodes 1-4)
UNCHARTED: Eye of Indra – Rika Raja and Daniel Pinkerton Character Skins
UNCHARTED 2: Among Thieves – Avatar Pack 1
UNCHARTED 2: Among Thieves – Avatar Pack 2
UNCHARTED Avatar Pack 3
UNCHARTED Avatar Pack 4
Pinball Heroes – UNCHARTED for the PSP
Naughty Dog is also planning some special events for October 16th to celebrate UC2's anniversary. For example, they'll run a special, one-day playlist of experimental game modes. More details will be revealed closer to the date.
Staff Writer at CinemaBlend.
Your Daily Blend of Entertainment News
Thank you for signing up to CinemaBlend. You will receive a verification email shortly.
There was a problem. Please refresh the page and try again.