Uncharted 4 Extended E3 Footage Pours On More Action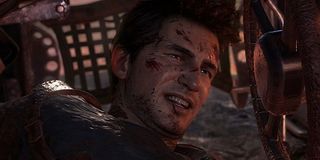 While we may not know when we can finally get our hands on Nathan Drake's next console adventure, at least we know that the fourth installment in the celebrated Uncharted series will be jam-packed full of action. For visual proof, Sony has released the full version of that jaw-dropping E3 footage, boasting 15 minutes of in-game footage.
If you tuned in for the PlayStation E3 press conference a couple of weeks ago, chances are pretty good that you had the opportunity to enjoy about seven minutes of footage pulled from Naughty Dog's upcoming Uncharted 4: A Thief's End.
After dealing with a controller malfunction, the gentleman on stage guided viewers through some pretty intense action overflowing with the patented Uncharted antics. The scene opens with Drake and lifelong mentor Sully in a crowded plaza, needing to make their way through a couple of miles of packed urban streets.
As is typical in these adventures, a simple stroll soon turns into a shootout, boasting cover fire, fisticuffs and the usual back and forth banter between Mr. Drake and his chum. They eventually make their way behind the wheel of a jeep, followed by a fast and furious downhill sprint boasting a game of chicken with an armored and heavily armed van.
Finally catching up to a vehicle they've been chasing down for a while, Drake tethers himself to an on-board crane before being yanked from the jeep and slung through the air, eventually crashing into a wooden structure. This, of course, is where the footage ends. (Cue cheers from the audience.)
While originally only available to folks who scheduled some behind-closed-doors time with Naughty Dog during E3, the full version of that action sequence has now been made available on the PlayStation Blog, doubling the runtime.
Drake survives being drug around and eventually has to open fire on some dudes while being tugged through the dirt. He eventually makes his way onto a moving vehicle, which triggers scenes of shooting, fighting and leaping from ride to ride until he at last comes to a crashing halt.
Finally reunited with his brother, the last bit of the chase is pretty damn epic, and involves a lot of behind-the-back shooting and close calls with buildings and massive metal objects. There's even a cutscene available after the action dies down, giving us a brief glimpse into Uncharted 4's narrative and the fact that Drake is, per usual, in some pretty deep trouble with the ladies.
Now just one question remains: When the hell can I finally play this game?!
Staff Writer for CinemaBlend.
Your Daily Blend of Entertainment News
Thank you for signing up to CinemaBlend. You will receive a verification email shortly.
There was a problem. Please refresh the page and try again.