Vans Just Made Mario, Zelda And More Classic Games Shoes, Check Them Out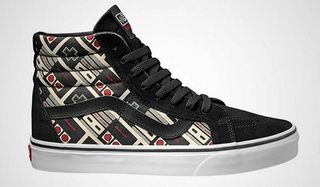 Sneakerheads who also happen to be into retro gaming have something to look forward to this summer as Vans announces a partnership with Nintendo to launch a line of kicks sporting all kinds of designs from NES classics.
Currently only available through German shoe retailer 43 Einhalb (opens in new tab), this collection of Nintendo-inspired sneakers will arrive in June. We're not sure yet if they'll be available in the U.S. of A, too, but it looks like they're going for between $50 and $100.
What's really surprising about these shoes is that Vans is offering a robust line of options. It isn't like you'll have just a couple of designs to choose from. What you see I this article only represents about a quarter of the shoe designs revealed so far, with apparently more designs to arrive before the June launch.
Designs currently focus mostly on Nintendo Entertainment System games. In other words, you can expect plenty of nods to the mustachioed plumber and his cohorts. There's a high-top offering with Mario's face front and center, with a bunch of other Super Mario Bros. characters in the background.
There's a rather classy shoe sporting NES controller designs, as well as a pink shoe dedicated to the latest iteration of Princess Peach from Mario Kart. A Yoshi-themed shoe is also in the lineup, boasting images of Yoshi in blue, green and yellow.
Want to get even more retro than Mario? Well, how about a shot dedicated to his arcade origins, Donkey Kong? There's also a shoe sporting 8-bit cammo, as well as the dog and ducks from Duck Hunt. You can also slide on a shoe with images from the original Super Mario Bros., as well as a somewhat hippy-dippy shoe sporting images from The Legend of Zelda.
Assuming these bad boys aren't too difficult to get your hands on, we're curious if this is something our readers might be into. My usual shoe shopping procedure includes picking up a version of the same type of shoe I've always worn. If I spotted a pair with Mario or Yoshi staring back at me, though, I might be tempted to finally change up the routine. Let us know your thoughts in the comments section below. And if not NES games, what gaming property would you like to wear on your feet all day?
Your Daily Blend of Entertainment News
Staff Writer for CinemaBlend.
Your Daily Blend of Entertainment News
Thank you for signing up to CinemaBlend. You will receive a verification email shortly.
There was a problem. Please refresh the page and try again.