Vigil Games Left Out In The Cold Following THQ Bankruptcy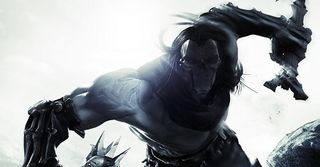 Tuesday was a sad day for video game fans as longstanding publisher, THQ, sold off most of its assets on the long road to bankruptcy. While many of the company's studios and properties were picked up by other big publishers, Vigil Games, makers of the Darksiders series, were not so lucky.
We reported yesterday about how the majority of THQ's assets were divided piece meal. Koch Media got the IP rights to Saints Row and Metro, Sega picked up Relic Entertainment, etc.
But while most of THQ's big name studios and IPs found new homes, the same could not be said for Vigil Games or the Darksiders franchise, something I find to be utterly baffling. Darksiders was Vigil's first major game and, say what you will about that particular title, the scope, polish, production values and creativity were miles above what most studios are able to pull off on their first effort. Darksiders 2 launched in the fall of 2012 and received high praise from both the press and consumers. While a lack of real marketing push may have meant smaller sales figures than expected, I'm not exactly sure how anyone interested in picking up the slack left by THQ could overlook this studio or IP as being a quality investment.
After finding out that Vigil had not been purchased, the staff had to clean out its Austin offices throughout yesterday. Lead Combat Designer Ben Cureton has since shared his feelings concerning the closure, making for some tough reading for fans of Vigil, Darksiders or anyone who hates to see a talented group of individuals not get a fair shake.
"Am I sad? Well yea. I've been in this industry for 20 years. Seriously. Two decades," Cureton said. "I've been laid off more than once. It sucks every time. But am I sad I don't have a job? Not really... I'm sure I'll get another one eventually. I'm sad because it won't be THIS job. It won't be at Vigil. That's why I'm sad. The people I waged war with are no longer together. The people that I bled with, vented with, argued with (often times LOUDLY), and kicked back with... these people will never be together again in the same combination."
The remainder of the letter can be read at the source. In closing, however, Cureton said he would like to say thank you to the fans of Vigil and their games.
"Your support means more than you can imagine," he concluded. "Your feedback (both positive and negative) gave us long-lasting insight that we will all take with us, wherever we may go. You are the reason we made Darksiders 1 &2... and you are the reason we will continue to make games."
Staff Writer for CinemaBlend.