VisionRacer Gaming Rig Arrives Just In Time For Gran Turismo 5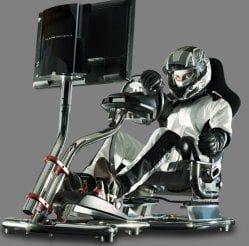 For the low, low, very low budget price of only $1,295…yeah…economic. Gamers who don't mind abandoning their sense of frugality for interactive enjoyment will find a quality gaming rig in VRI Technology's extremely impressive VisionRacer set.
The VisionRacer consists of the entire rig setup for a steering wheel, LCD and PS3 stand, as well as a gear shifter mount for gamers who define the interactive racing experience for a game like Gran Turismo 5 by making it as realistic as possible, without actually brushing their teeth with gravel after taking a nasty spill.
The VisionRacer is currently available for purchase. You may have to dip into the savings in order to afford it, though. For gamers who can't muster up the paycheck to put something as cool as the VisionRacer in their den, there are a few screenshots available for gawking and drooling. For more info on this snazzy racing rig, feel free to visit the Official Website.
Staff Writer at CinemaBlend.
Your Daily Blend of Entertainment News
Thank you for signing up to CinemaBlend. You will receive a verification email shortly.
There was a problem. Please refresh the page and try again.