WWE 2K14 Roster Announced For Wrestlemania Mode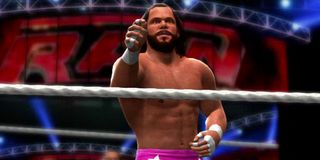 As promised, 2K Games announced the full roster for WWE 2K14's story mode "30 Years of Wrestlemania" during a livestream event today. The "30 Years" mode allows players to take on the role of dozens of WWE superstars from throughout the wrestling organization's history.
Players will reenact fights from past WrestleManias. The arenas for these matches have been faithfully recreated, as have the wrestler outfits and entrances. Cutscenes will get you up to speed on the events leading up to the bouts. Special filters will make the older matches look more "aged," so you can feel like you're watching them on a rickety old TV back in the 1980's. By faithfully recreating certain moments from the real matches, you'll earn unlockables like characters and outfits.
Judging by the roster, "30 Years" mode has a good mix of both old and new wrestlers. Superstars from the earliest days of WrestleMania like King Kong Bundy and Ricky Steamboat are joined by current stars like The Rock and John Cena. There are several wrestlers from the New Generation and Attitude Eras as well. The roster's not as slanted toward the modern era as you might expect.
Alberto Del Rio
Andre the Giant
Batista
Big Show
Big Show (Retro)
Bret Hart
Brock Lesnar
Brock Lesnar (Retro)
Chris Jericho
Chris Jericho (Retro)
CM Punk
Diesel
Edge
Goldberg
Hulk Hogan
'Hollywood' Hulk Hogan
JBL
John Cena
John Cena (Retro)
Kane (Retro)
King Kong Bundy
Mick Foley
Randy Orton
'Macho Man' Randy Savage
Razor Ramon
Ric Flair
Ric Flair (Retro)
Ricky Steamboat
Sergeant Slaughter
Shawn Michaels
Shawn Michaels (Retro)
'Stone Cold' Steve Austin
Ted DiBiase
The Miz
The Rock
The Rock (Retro)
Triple H
Triple H (Retro)
Ultimate Warrior
Undertaker
Undertaker (Retro)
Yokozuna
I'm a bit puzzled by Ultimate Warrior's inclusion on the list. 2K previously announced that he's an exclusive pre-order bonus. Does this mean that you'll be able to play him in "Wrestlemania" mode regardless of whether you reserve the game? That would mean that being able to freely play him in other modes of the game is the real pre-order perk. Or maybe his match in "Wrestlemania" mode is inaccessible unless you've unlocked him with the pre-order?
It's worth noting that this isn't the complete roster for WWE 2K14. This is just the list of wrestlers included in "30 Years" mode. The full roster hasn't been announced yet but will also include a wide range of current superstars. Earlier today 2K revealed that Darren Young will be one of the superstars in the game. Presumably they'll announce the rest in another livestream event. There's no word yet from 2K when that reveal will happen, though.
WWE 2K14 will launch on October 29th in North America and on November 1st elsewhere. The game will be available on both the PS3 and Xbox 360.
Update: And here's the trailer for the roster reveal:
Staff Writer at CinemaBlend.
Your Daily Blend of Entertainment News
Thank you for signing up to CinemaBlend. You will receive a verification email shortly.
There was a problem. Please refresh the page and try again.