WWE Smackdown Vs Raw 2010 CAW Season Mode Returns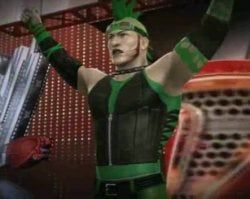 A new video trailer has been released showcasing an all new road to superstardom, in which player's created characters can now engage in their very own story mode. Now all the scripted drama can be experienced by characters such as the El Jobber, or the Masked Midcarder.
In recent iterations of the Smackdown Vs Raw series players had to take the road to Wrestlemania with pre-selected superstars, as opposed to being able to play whoever you wanted in the story modes. Well, all that has changed in SD Vs Raw 2010. Gamers can now pick whoever they want to participate in the backstage story events, including no-name created characters.
Presumably, this means that the custom-character options and variety has been expanded and that would definitely be a good thing. As usual, gamers can also take their custom-creations online and battle foes from around the world. Ah, nothing like getting your butt kicked by a guy dressed like a pink ninja, eh?
You can check out the new custom-superstar trailer below. Smackdown Vs Raw 2010 is due out this October for most major gaming platforms. For more gaming news, updates, info and insight, be sure to stay tuned in with Blend Games.
Your Daily Blend of Entertainment News
Staff Writer at CinemaBlend.