The Walking Dead: No Man's Land Announced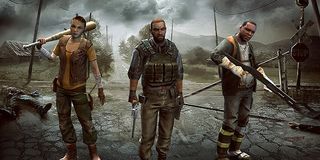 Shambling masses of braindead zombies seem to be everywhere these days and, later this year, that will include "in your pocket" as developer Next Games has announced the impending launch of its mobile survivor adventure, The Walking Dead: No Man's Land.
Announced over on Entertainment Weekly, this latest foray into the post-apocalyptic world of The Walking Dead looks to borrow a bit of inspiration from those Telltale games we were just talking about, particularly in the decision-making department.
Telltale's games earned heaps of praise for their branching storylines. Players were forced to make impossible choices and then live with the consequences. According to Next Games' Kalle Kaivola, those sorts of dilemmas will be a big part of the new mobile game as well.
While we know little about the game so far, the feeling I get from the early details is that we could be looking at a strategy game where players build up a stronghold and fortify their defenses while sending characters off to scrounge for supplies. It sounds like No Man's Land will have a large cast of characters, each with their own strengths and weaknesses. The player's job will be to make sure everyone is on task. If need be, they'll cut ties with the folks who aren't pulling their weight or won't stop causing trouble.
"Not everyone will fit in your group or will be strong enough to go forward with you," Kaivola explained to EW.
Don't worry, though, because your gameplay won't just revolve around managing personnel and watching events play out. Kaivola also promised there would be plenty of zombies to battle along the way. That's all we really have to go on right now, though.
The Walking Dead is pretty huge these days. Starting off as a comic book, the property has been spun into a highly successful weekly drama on AMC, and even that is getting its own spin-off show called Fear The Walking Dead. Oh, and let's not forget about Talking Dead, a show that's dedicated entirely to discussing how good The Walking Dead is.
Along with the usual assortment of T-shirts, posters and action figures, the popular zombie-fest has also spawned a handful of video games including a first-person shooter and an award-winning adventure game series from Telltale Games that has already produced two seasons of content.
Like The Walking Dead's namesake, though, the franchise must keep spreading. Look for The Walking Dead: No Man's Land to arrive on iOS this fall and then hit Android shortly afterward.
Your Daily Blend of Entertainment News
Staff Writer for CinemaBlend.
Your Daily Blend of Entertainment News
Thank you for signing up to CinemaBlend. You will receive a verification email shortly.
There was a problem. Please refresh the page and try again.