Warhammer Online: Wrath Of Heroes Open Beta Begins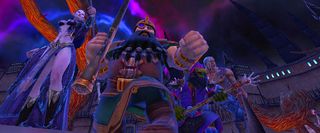 BioWare announced today that Warhammer Online: Wrath of Heroes is now in open beta. Anyone looking for some medieval fantasy arena action can download and start playing the game for free.
What they've done, essentially, is repackage the PvP of MMO Warhammer Online: Age of Reckoning as a separate, quick-to-play product. Three teams of six players face off in three-way battles. The game features a variety of settings, character types and weapons also seen in Warhammer Online.
Wrath supports itself through microtransactions. Players choose from a selection of premade characters for each battle. Some of these characters are free but others cost money to purchase. It sounds a bit like League of Legends' business model.
"BioWare Mythic has a strong heritage in creating fun, intense PvP combat, and they've stepped up their game to deliver a whole new challenge to even more players with Wrath of Heroes," said Dr. Ray Muzyka, co-founder of BioWare and general manager of the BioWare label. "I'm really proud of the team for creating a fiercely competitive, fast-paced online PvP arena experience; Wrath of Heroes has compelling progression and awesome depth in strategy and tactics, — all in a highly accessible free to play game."
You can sign up for the beta and download the game client at WrathofHeroes.com.
Image 1 of 8
Your Daily Blend of Entertainment News
Staff Writer at CinemaBlend.
Your Daily Blend of Entertainment News
Thank you for signing up to CinemaBlend. You will receive a verification email shortly.
There was a problem. Please refresh the page and try again.