Watch Jimmy Fallon And Michael Cera Get Into Heated Mario Kart 8 Debate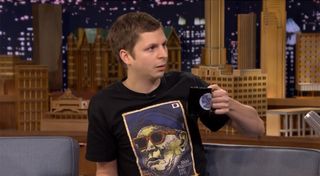 Jimmy Fallon and Hollywood actor Michael Cera found themselves talking about what was happening in the green room and involved some light jibs about Mario Kart 8.
Game Informer picked up the piece from a segment that aired a few days ago on Jimmy Fallon, noting how the segment briefly mentioned Mario Kart 8 in passing. I'm not really sure what the gist of the conversation is between Cera and Fallon, since they talk about eye contact and Fallon letting his guests win and then things devolve into Fallon going off on a minor rant while giving a plug to Cera's play.
For as far as I can tell, that's pretty much the entirety of the story... so now I have question: why is this is a story? I was waiting for a clip or something of Fallon and Cera to pop up so we could see how Fallon lost or something... but nada. We get nothing. Just a comment in passing.
I suppose for the people who are really into Mario Kart 8 there may have been a chuckle or two about the settings of the karts that Cera and Fallon use when they race, but the whole segment was mostly lost on me. I guess I'm just not hip enough to find the humor in Fallon possibly losing in a game we didn't get to see them play? Oh well.
But what really gets me is how many stories this non-segment kind of spawned... it's more like free advertising for Mario Kart 8, and in some ways I guess we could make an argument that Nintendo could use all the free advertising they can get. It's not like the Wii U has been shown a lot of love during this generation by the media; having the host of the Tonight Show giving a bit of free loving to Mario Kart 8 (and, by proxy, the Wii U) is something worth writing about... but not really.
I guess if bloggers can milk non-news for hits then it's all good (for them)... or maybe I've just become too jaded with all the click-bait and would rather see more news about games worth playing, games coming out, games we don't regularly hear about but might be worth checking out, or upcoming conceptual design prototypes for new ways to interact with games. I mean, Distance and Radial-G are two really awesome looking games but we haven't heard much about them and since they don't have click-bait culture circling them, they aren't a priority on the news circuits. Funny how that works, eh?
Anyway, Mario Kart 8 is available right now exclusively for the Wii U. The game has received plenty of rave reviews and lots of support. In combination with the release of Super Smash Bros the Wii U's profile has definitely been raised this holiday season.
Staff Writer at CinemaBlend.
Your Daily Blend of Entertainment News
Thank you for signing up to CinemaBlend. You will receive a verification email shortly.
There was a problem. Please refresh the page and try again.