This Week In Video Games: Fallout 4 Pip Boys Are Too Popular And Everyone's Getting Free Games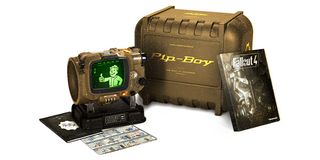 There's always pressure with weekly recaps to convince the readers that this was the BEST WEEK EVER. Like, you can't believe what happened, guys! But honestly, you can believe what happened. Some video game companies announced some video game stuff. You'll probably care about some of it.
Next week will be an even bigger one for video game news thanks to gamescom 2015. Still, there were plenty of nice surprises this week including the return of a classic open-world series and a bevy of free games. Here's the run-down:
Top Stories Of The Week
Resident Evil 2 HD Might Actually Happen - Capcom remembers that they like money.
Mighty No. 9 Delayed To 2016 - *fist shake* Kickstarter!
EA Reveals When Next Battlefield Game Is Coming - EA, too, likes money.
Ubisoft's Zombi Franchise Is Shambling Back To Life - Wii U's first zombie game is becoming the PS4, Xbox One and PC's 357th zombie game.
See What's Coming To PlayStation Plus In August - PlayStation Plus subscribers can get God of War Ascension and five other games. Ascension, if you don't recall, is the one where Kratos yells a lot and murders a chapter of your Greek mythology textbook.
Get Caught Up With Metal Gear Solid V: Ground Zeroes, Free to Xbox Live Gold Members - Metal Gear Solid 5: Ground Zeroes is kind of like Metal Gear Solid 5: The Phantom Pain except it's shorter and Hideo Kojima has a job at the end.
Become A Made Man Once More With Mafia III - First game to use the phrase "period-accurate" in its press release.
The Fallout 4 Special Edition Was Way Too Popular And Now That's A Problem - Yes, Apple, people want a giant wrist holster for their iPhone more than a smartwatch.
Hideo Kojima and Guillermo del Toro Could Still Be Working Together - Just change the name from Silent Hills to Quiet Mounds and put it on Kickstarter, guys.
What WWE 2K16 Is Doing About Hulk Hogan - WWE 2K16: Knee-Jerk Reaction Edition
Video Of The Week
Batman: Arkham Knight modders have found a way to make butler Alfred into a playable character:
Quote Of The Week
"Did you know that last year I was working at Dollar General? I worked as a cashier. I had three bosses who were all still in high school. Before that I worked at Target in the backroom freezer, unloading frozen foods. I haven't had a successful life; and now that God has blessed me with some success, I'm doing my best to be responsible with that success. I don't party on weekends, I don't get drunk or sip martinis. I spend my evenings playing Megaman 3, buster only, with my kids. And I try to do good with what's been given to me." - Five Nights at Freddy's creator Scott Cawthon, in a letter to his critics.
Your Daily Blend of Entertainment News
Staff Writer at CinemaBlend.
Your Daily Blend of Entertainment News
Thank you for signing up to CinemaBlend. You will receive a verification email shortly.
There was a problem. Please refresh the page and try again.