This Is What Uncharted Would Look Like In Real-Life, See The Video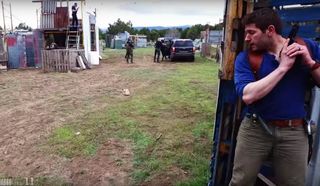 It was a mere week ago that Uncharted 4: A Thief's End finally released for the PS4. Fans have been waiting what seemed like decades for the final chapter of the series to conclude. And now that's it's over, what else can we do with our Nathan-Drake-detox? One YouTuber decided to bring Uncharted 4 into real-life. You can see the video below.
After having spent so much time playing Uncharted 4, I can definitely feel the realism in this video. He's got the movements from the game down and even Nathan Drake's rugged and adventurous look. Hell, even the stealth attack is straight out of the game. The video comes from the YouTube channel, Freakin Rad, and they've done other videos like a longboard battle between Iron Man and Captain America. In the vein of survival adventure games like Uncharted, they've also done a live-action movie trailer for Tomb Raider, which looks and feels just as good as the Uncharted 4 video. You can check that out below.
It's obvious that when it comes to recreating video games, Freakin' Rad really knows what they're doing. If I had the money, I'd be recreating games in live-action as much as I could. Personally, I'd like to see more live-action videos from Freakin' Rad for Uncharted. Because there's so much material there to work with, I'd be interested to see how they would translate Nathan Drake's near-impossible climbing techniques into real-life. I know the technique is possible (and a ton of hand and arm strength), but not many people can climb like that.
If you'd like to watch more live-action video game videos from Freakin' Rad, you can head to their YouTube Page.
Your Daily Blend of Entertainment News
Your Daily Blend of Entertainment News
Thank you for signing up to CinemaBlend. You will receive a verification email shortly.
There was a problem. Please refresh the page and try again.