Wii: Super Paper Mario Gameplay Trailer Is Very Papery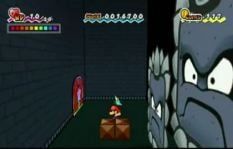 Nintendo rumbles the foundation of gaming once more with Super Paper Mario. This game has always been a keystone to the casual experience that made Mario so fun-loving amongst hardcore and non-hardcore gamers. And the new gameplay trailer lets gamers in on some realtime Paper Mario action.
Featuring the undeniably cool ability to switch from 2D to 3D, SPM for the Wii already has a super-selling gameplay gimmick that's bound to be fun for more than five minutes. Or so I'm hoping. Anyway, the game has some easily fun-to-watch moments as obstacles and enemies pose new and old threats as players switch between the two different playing dimensions. Due out next week, gamers can get a glimpse of what their hard-earned cash will be buying them. Not that it matters...the game is going to sell like crazy regardless. But I wouldn't be doing my job if I didn't shove every available trailer down your throats. Enjoy :)
Staff Writer at CinemaBlend.
Your Daily Blend of Entertainment News
Thank you for signing up to CinemaBlend. You will receive a verification email shortly.
There was a problem. Please refresh the page and try again.