WildFire EVO Xbox 360 Controller Features Built-In LCD Display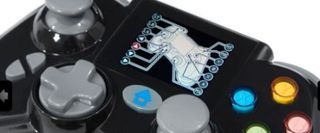 The Wii-U may have a controller centering on tablet-like controls and visual touch-screen capabilities, but Datel seems to be beating Nintendo to the punch when it comes to releasing a controller onto the market first.
Datel announced that the WildFire EVO for the Xbox 360 will be available this month and it features a hefty command center with a plethora of customizable options built directly into an LCD display on the controller.
As stated in the press release…
I really like the idea of being able to turn features on and off right there at the press of a button with the options right in front of me, as opposed to having dozens of different buttons, dials, knobs and switches located all around the controller, sort of how it used to be back in the days of turbo-controllers for the SEGA and SNES.
The WildFire EVO also has the ability to receive upgrades and profile updates by connecting to PC and having all the necessary data downloaded directly into the controller. If that isn't uber-awesome for a controller, I just don't know what is.
What's more is that the WildFire also sports a headset port, so you can bring the WildFire EVO online with you and your teammates as you gear up for some hardcore action in games like Call of Duty: Modern Warfare 3 and Battlefield 3.
The EVO is available for $54.99 and you can learn more about the WildFire EVO by heading on over to the Official Website.
WildFire EVO Features:
· Fully compatible with Xbox 360
· Direct sync with Xbox 360 - no cord or dongles required
· Fully wireless
· Unique built in 1.7" TFT Combat Command Weapon selector interface.
· Customizer feature – enabling users to customize controller settings for specific games
· 20ft wireless range
· Seamless control and accuracy
· Programmable vibration feedback
· Full analogue input
· Integrated headset port for Xbox Live play
· Dual rumble motors
· Truly ergonomic shape fits perfectly in your hands
· Blue glowing grips when turbo rapid fire is enabled
· Accepts standard rechargeable battery packs
· Precision engineered
· Built to withstand aggressive fast paced game play!
Staff Writer at CinemaBlend.
Your Daily Blend of Entertainment News
Thank you for signing up to CinemaBlend. You will receive a verification email shortly.
There was a problem. Please refresh the page and try again.