Witcher 3 Shows Single-Player Isn't Dead, Developer Says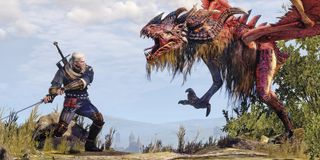 The Witcher 3's success this summer with gamers and critics showed CD Projekt that there's still a significant audience for single-player games out there, visual effects artist Jose Teixeira said in a new interview.
Teixeira pointed out in his chat with MCV that the game really bucks a number of trends in the gaming industry:
CD Projekt's approach to DLC is very different than many other developers' as well. Instead of releasing a series of small premium DLC packs for The Witcher 3, they're releasing two large expansion packs. The first, Hearts of Stone, launched earlier this week. Teixeira said that the early feedback from players has been very positive:
While Witcher 3's success does prove that single-player gaming is still desirable, I'm not sure it's going to necessarily stop the trend toward multiplayer, free-to-play, mobile gaming and microtransactions. Games like The Witcher 3 are always going to be outnumbered by smaller, cheaper games loading with in-game purchases. Lord knows how many mobile games EA cranked out in the four years between Witcher 2 and Witcher 3's release. Plus, a new match-three game is a lot easier to make and less risky than a single-player RPG.
Still, I'm glad that even as the market is flooded with forgettable games designed to make quick money, someone's still making more ambitious projects. Not many developers can make huge, quality single-player games but I hope the few that can keep doing so for a very long time.
Staff Writer at CinemaBlend.
Your Daily Blend of Entertainment News
Thank you for signing up to CinemaBlend. You will receive a verification email shortly.
There was a problem. Please refresh the page and try again.