10 Shows You Should Stream If You Love Game of Thrones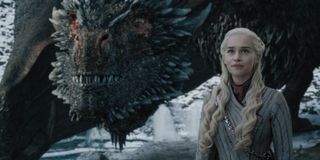 The Game of Thrones' series finale may have divided fans, but most can agree that when the HBO epic was at peak performance, it was one of the most compelling shows on the air. For many fans, Game of Thrones' exit after Season 8 left a big hole in their hearts and TV schedules. Luckily, the wide list of streaming services makes finding a worthy substitute for Game of Thrones a bit easier.
For this list, we selected TV shows to stream that had some major element in common with Game of Thrones, whether it be the genre, story-arcs, or overall themes. This list includes a variety of series that mainly exist in the crime drama, fantasy, and historical fiction realms, but with a comedy or two sprinkled in for diversity.
The Witcher (Netflix)
Ex-Superman Henry Cavill stars in Netflix's medieval fantasy series The Witcher, which released its first season on December 20 and immediately polarized viewers in a Thrones-esque way. The Witcher follows three intersecting timelines and characters: the monster hunter Geralt of Rivia (Henry Cavill), the young princess Ciri (Freya Allan), and the sorceress Yennefer of Vengerberg (Anya Chalotra). Based on Polish author Andrzej Sapkowski's saga of the same name, with some nods to the popular video game series, the eight-episode first season focuses on key moments that lead to the trio's destined meeting.
The Witcher and Game of Thrones use fantasy elements to tell stories grounded in real life issues. For example, both series discuss the confining nature of a class system, and each show shines a big bright light on societal prejudices. Like Game of Thrones, The Witcher has plenty of book source material, though that can admittedly make the storytelling a little more complicated for those completely unfamiliar with the books. Netflix has already renewed The Witcher for season 2, with plans to start filming in 2020 for the expected 2021 release date. For fans too anxious to wait for the new season, there are plenty of books in The Witcher saga to read. Stream it HERE.
Vikings (Hulu)
History's Vikings tells the story of Ragnor Lothbrok (Travis Fimmel) and his rather large family, exploring the tumultuous life and adventures of this legendary Viking king. Currently in the midst of its 6th and final season, which will air its second half in 2020, Vikings is the creation of Michael Hirst, also known for his work on historical fiction movies and shows, so the series features a mix of historical realism and dramatizations.
Game of Thrones and Vikings share the concept of watching the rise and fall of kings and queens, and while the power struggles begin with Ragnor, they carry on to include all his heirs. As such, being a generational saga is also something Vikings and Game of Thrones have in common, and both series also explore the complexity of both female and male warriors.The first five seasons of Vikings are available on Hulu. (After the series finale, Netflix plans to continue the Vikings story with a spin-off, similar to how HBO plans on keeping George R.R. Martin's universe going.) Stream it HERE.
The Last Kingdom (Netflix)
The Last Kingdom follows Uhtred of Bebbanburg (Alexander Dreymon) as he faces his conflicting heritage; he was born an Anglo-Saxon but raised by Vikings. The Last Kingdom tells the story of Uhtred and the fictionalized birth of England. It's set in 9th Century AD and based on Bernard Cornwell's The Saxon Stories series, with each season of The Last Kingdom following two books from the series.
The Last Kingdom and Game of Thrones share in their love of long battle scenes. Both series also deal with the question of birthrights, and familial blood versus adopted culture and traditions. The Last Kingdom and Game of Thrones both deal with the hero's journey of accepting his or her destiny. The first three seasons of The Last Kingdom are available on Netflix, and the streaming service plans to release season 4 of The Last Kingdom in 2020. Stream it HERE.
The Tudors (Netflix)
The Tudors follows the Tudor dynasty of Henry VIII (Jonathan Rhys Meyers) and his six wives, with Game of Thrones' Natalie Dormer – who played Margaery Tyrell on the hit HBO series – portraying one of these wives. The Tudors aired on Showtime for 4 seasons and ran for 38 episodes in total.
The Tudors and Game of Thrones both brought huge ratings for their perspective cable networks during their run, and both series were not afraid to use that TV-MA rating to push boundaries of nudity and sex scenes. The Tudors took a very sexy approach to fictionalized history, and Game of Thrones sometimes took a similar path, with varying responses from viewers. Game of Thrones and The Tudors also share in their depiction of how absolute power corrupts. The Tudors is currently available through Netflix. Stream it HERE.
Succession (HBO Now)
Succession follows the Roy Family as they battle for control of the Waystar Royco Company. Brian Cox plays the aging patriarch Logan Roy, whose family includes his wife and four children, with impeccable actors such as Hiam Abbass, Kieran Culkin, Alan Ruck, and Jeremy Strong serving as part of the Succession ensemble cast.
Succession and Game of Thrones share both a network and the theme of toxic family dynamics. Succession is what Game of Thrones would be if the latter was a comedy based in reality and set in modern day, with slightly fewer deaths by eye-gouging. Succession's first two seasons are available on HBO Go and HBO Now. As a relatively new series, Succession is just starting to gain a fanbase and momentum, but one day it might live up to Game of Thrones legacy of awards and diehard fans. Stream it HERE.
Animal Kingdom (Amazon Prime)
Animal Kingdom begins with J Cody (Finn Cole) reuniting with his estranged family after his mother's death. Immediately, J tries to carve his place in the Cody family criminal enterprise, which is headed up by Ellen Barkin's cold and calculating matriarch Smurf. Game of Thrones and Animal Kingdom both explore the family feuds that result when everyone believes that they should be king. Animal Kingdom's original main cast also includes Scott Speedman, Shawn Hatosy, Ben Robson, and Jake Weary.
J is a very ambiguous character whose motives are never quite clear. Is he trying to join the family business, take it over, or destroy it? This puts J on the same level of Game of Thrones' infamously dubious characters like Lord Baelish (Aidan Gillen). While not on the same extremes as Game of Thrones, Animal Kingdom also dips its toes in the incest pool, as Smurf (Ellen Barkin) often flirts with her sons and grandson. Animal Kingdom is based off the Australian film of the same name, and Amazon Prime has the first three seasons as part of a regular Prime Video subscription package, and the shocking fourth season should be available on the streaming service during the summer of 2020. Stream it HERE.
Peaky Blinders (Netflix)
Peaky Blinders follows the Shelby crime family, led by Tommy Shelby (Cillian Murphy). Set in Birmingham, England in 1919, Peaky Blinders showcases the creation of a criminal dynasty. Peaky Blinders currently has five seasons available for viewing, with plans for seven seasons total.
Peaky Blinders and Game of Thrones share a love of morally corrupt characters who are also really likable. The families on Game of Thrones do pretty terrible things to others and each other, but some of the morally damaged characters still make you root for them. The same can be said for the Shelby clan on Peaky Blinders. Both series also explore the beginning and progression of a kingdom. In Peaky Blinders, the kingdom comes in the form of the crime empire. All five seasons of Peaky Blinders are available on Netflix. Stream it HERE.
The White Queen (Starz)
Starz miniseries The White Queen aired in 2013 with ten episodes, with Philippa Gregory's best-selling novel of the same name serving as the source material. The White Princess miniseries and The Spanish Princess series both followed The White Queen on Starz. Rebecca Ferguson plays The White Queen Elizabeth Woodville, Faye Marsay appears as Anne Neville, and Amanda Hale plays Margaret Beaufort.
The White Queen follows sympathetic female characters as they manipulate events and situations to gain power and liberation. Like with Games of Thrones, the Starz series creates ambitious, brave, and smart female characters who make dangerous decisions in order to protect themselves and their families. Both series also show the female leads to be just as powerful and vital to the power struggle as their male counterparts. The White Queen is only available through a Starz subscription, which Amazon Prime Video or Hulu subscribers can add to their current subscriptions. Stream it HERE.
American Gods (Starz)
American Gods is based off Neil Gaiman's novel of the same name. The first season follows Shadow Moon (Ricky Whittle) as he joins god Wednesday (Ian McShane) in gathering the Old Gods in preparation for a war against the New Gods.
Game of Thrones and American Gods both deal with how gods and otherworldly figures interfere in the lives of mortals, which often results in destruction and chaos. Both series also have a very distinct cinematography. Both shows also have the threat of an impending war lingering all series. American Gods is only available through a Starz subscription, which is an add-on option on Amazon Prime Video and Hulu. Stream it HERE.
Love/Hate (Amazon Prime)
Irish crime drama Love/Hate aired on RTE television from 2010 to 2014. It follows John Boy (Aidan Gillen) and four friends Darren (Robert Sheehan), Nidge (Tom Vaughan-Lawlor), Robbie (Chris Newman), and Tommy (Killian Scott). Throughout Love/Hate's five seasons, viewers witness how the criminal world changes these characters, usually for the worse.
Love/Hate is an unapologetic crime drama that doesn't hesitate to show violence, corruption, and the gritty nature of crime. Game of Thrones and Love/Hate share the extremely talented Aidan Gillen and a story of how a series of devastating events can lead a relatively kind character towards darkness. Darren and Sansa (Sophia Turner) start in a similar fashion of innocence, but both go through a major devastating transformation, only Darren doesn't become ruler of the North in the end.
Love/Hate Season 1 is available through a Prime Video subscription. Amazon has only made the other seasons available to view through a direct purchase. Stream it HERE.
Game of Thrones was a one-of-a-kind series, so it's impossible to find a direct replacement, but the listed shows offer fans of the HBO series something to binge as they wait for the latest book or upcoming prequel series.
Spent most of my life in various parts of Illinois, including attending college in Evanston. I have been a life long lover of pop culture, especially television, turned that passion into writing about all things entertainment related. When I'm not writing about pop culture, I can be found channeling Gordon Ramsay by kicking people out the kitchen.
Your Daily Blend of Entertainment News
Thank you for signing up to CinemaBlend. You will receive a verification email shortly.
There was a problem. Please refresh the page and try again.