The Witcher 3 Skipping PS3, Xbox 360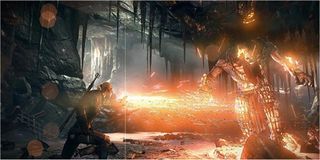 CD Projekt RED has made it known that The Witcher 3 won't a be cross-generational game like Assassin's Creed IV, Watch Dogs, Call of Duty: Ghosts or Battlefield 4. The team won't be wasting time try to down-scale their game to run on the old haggily consoles, but will instead focus on the new, pristine and fresh devices from Sony and Microsoft.
Examiner spotted the comments made by Witcher 3's story writer, Jakub Szamalek, in a video interview with Connected Digital World, where he stated that...
Thank goodness.
CD Projekt RED is one of the few companies who understand how to manage budgets while pushing innovation, listening to the community feedback and working towards bridging the gap between the relationship of developers and gamers, as well as being an all-around pro-consumer company who embraces and wants to grow gaming culture.
CD Projekt RED, you are the good guys.
While some Xbox 360 and PS3 owners may feel like they're getting the shaft, the reality is that the hardware is just way too dated for the vision that the developers have for The Witcher 3. It could potentially double the development costs to hire additional artists and designers to downgrade the game, where everything will have to run at half the poly-count – or half the routines – in order to maintain a runtime environment that fits within the memory budgets of the 360 and PS3.
Thankfully, the company recognizes that it's just more beneficial to focus on what's viable instead of just gunning for the greed machine.
Other companies seem to be in this unsustainable situation where they're going over and beyond to try to make as much money as possible, sort of like that ridiculous situation with Forza Motorsport 5, where buying two of the top cars together is double the retail price of the game itself. There's a somewhat panoramic discussion involving this kind of "paymium" method being employed by publishers on GamesIndustry.biz, but the bottom line is that budgets and spending need to be curtailed if survival is supposed to be an option on the menu.
Thankfully, CD Projekt RED hasn't resorted to any kind of underhanded tactics with selling their games, and coupled with Good Old Games, they really are showing that they are a beacon of light in a sea of despair – a sea that has become filled with the depressing monetary philosophies of investors and business executives.
It'll be interesting to see how The Witcher 3 turns out for new gen consoles and PC, and how it will affect the financial standing of CDPR.
Staff Writer at CinemaBlend.
Your Daily Blend of Entertainment News
Thank you for signing up to CinemaBlend. You will receive a verification email shortly.
There was a problem. Please refresh the page and try again.