XCOM: Enemy Unknown Slingshot DLC Announced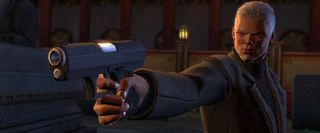 Today 2K Games and Firaxis Games revealed that they're planning two DLC packs for strategy game XCOM: Enemy Unknown. The first add-on, called the Slingshot Content Pack, will be arriving soon with all-new gameplay.
The Slingshot DLC adds a set of linked missions. Players will encounter a Triad operative and fight aliens in Chinese airspace. They'll unlock a new squadmate with a distinct story and voice, as well as new customization options.
The second DLC pack wasn't detailed. However, the announcement mentions that it's also going to be for the game's single-player.
Additionally, the Elite Soldier Pack is now on sale. The Soldier Pack was previously exclusive to pre-order customers. However, now anyone can buy it for $4.99 to unlock a classic X-Com soldier and new cosmetic upgrades for their troops.
Screenshots for the Slingshot add-on are below.
Image 1 of 4
Image 2 of 4
Image 3 of 4
Image 4 of 4
Staff Writer at CinemaBlend.