Xbox 360 And Red Planet Gear Up For Next-Gen MMO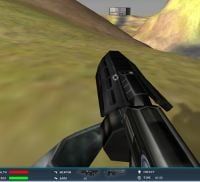 Lost Colony is one of many action-oriented MMO games poised to make an impact on next-gen gaming. The MMOFPS deadline for pre-ordering Lost Colony ends on January 19th. So if you want to get in on the fight, which includes vehicles, futuristic weapons, and an online massive-multiplayer experience, you might want to pre-order the game now.
Lost Colony features the standard 'war for resources' scheme with three different factions, the "Insurgents", "Survivalists", and "Veritas Corporation". Gamers who pre-order the game now will be able to chime in on the action a little early, as well as attain exclusive content. On a huge plus side, the pre-ordering also enables gamers to customize their character and their character's outfit, before everyone else gets in on the fray.
Running on an advanced version of the Torque engine and featuring the latest in shader technology, Lost Colony is at least going to be a visually competent contender. One thing to note, though, is that the Torque engine is a highly compatible middleware component that Microsoft is even promoting with their XNA Game Express kits. But before going any further, gamers who may not be aware should take into account that the Torque engine is widely used for independent game development, and is a very resourceful component for low-cost software engineering.
Not to fall off on a tangent, but in the debate of the next-gen console war, XNA and the Torque engine will make the Xbox 360 look a lot more compatible to software engineers and game developers, over the PS3. And just so happens, Lost Colony is one of those games that's taking advantage of the Xbox 360's developmental platform. So unless Sony is planning on providing more multithreaded core support, developers are going to have to spend a handful of years working around a lot of development hassles. Otherwise developers will just wait until more middleware components become available that provides multithreaded processing support. Still, there's going to be far fewer games with far less originality hitting the PS3. It may not be until 2012 that we'll even see anything noteworthy from the PS3's capabilities.
Meanwhile, Microsoft may be seeing a lot of emerging indie titles poised to hit their next-gen console. That is, of course, so long as Microsoft makes it affordable and easy for the indie community to produce and distribute the titles. Red Planet's Lost Colony may be one of the first big indie titles for the Xbox 360 that could legitimately turn the tide of console MMO gaming. And with a weekly story progression that transcends the traditional story-telling formula, it will be darn interesting to see how LC affects the 360's community. If you'd like to pre-order the game or find out further information, you can visit The Lost Colony Main Website.
Staff Writer at CinemaBlend.
Your Daily Blend of Entertainment News
Thank you for signing up to CinemaBlend. You will receive a verification email shortly.
There was a problem. Please refresh the page and try again.