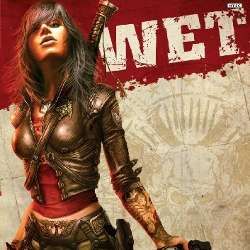 A trial version of Artificial Mind and Movement's third-person shooter WET was released through Xbox Live today. PSN will probably get it later in the week.
WET, published by Bethesda, is a game that encourages you not only to kill but to kill with style. Protagonist Rubi Malone uses her swords, guns, and acrobatics to dispatch foes in a number of flashy ways. Most importantly, she is voiced by - and kinda looks like - Eliza Dushku.
The game will arrive on September 15th in North America and on the 18th in Europe. If you're reluctant to expend precious hard drive space on the demo, here's a recent trailer that might convince you to take the plunge.
Staff Writer at CinemaBlend.
Your Daily Blend of Entertainment News
Thank you for signing up to CinemaBlend. You will receive a verification email shortly.
There was a problem. Please refresh the page and try again.