Xbox One Launches In China Across 4,000 Stores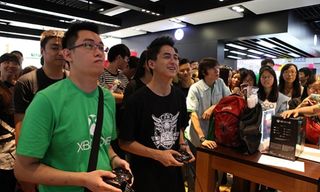 Microsoft's push into Asia continues, as the American-based company seeks to get an early lead on the competition in the great Republic of China. The company has been planning all summer long to make their way into the territory and they've finally managed to do it.
Back at the end of July Microsoft made it known that the Xbox One would be available in China on September 23rd. However, there was a minor hiccup in the plans and the company had to delay the release of their console by an extra week. Well, here we are... one week later and the console is now available throughout 4,000 retail locations across 37 different cities in the mainland of China.
Over on the official Xbox website, Phil Spencer, head of Xbox commented about the milestone achievement for the company, saying...
The partnership Microsoft has with BesTV sees them having made 100,000 Xbox One SKUs. This deal was sign, sealed and delivered back in April. The units themselves will be distributed throughout the region thanks to the help of the China Telecom Corporation.
Microsoft has been the only one of the big three console manufacturers to exercise a very strong-willed fervor in getting the console out and into the mainland region of China. They even did so while facing down against some extremely stiff censorship rules, dubbed by the gaming community as the "10 Rules of Censorship".
One of the main reasons that they could be so active in pursuing the Chinese market is that right now they're still running in third place behind Nintendo and Sony in the current eighth generation console race.
Nintendo has a very firm grasp on Japan, Sony has North America and Europe and Microsoft... well, that's why they're trying to get a foothold in China. The current momentum of the Xbox One isn't entirely all that great spread across the regions where it's currently available. Phil Spencer is doing all that he can to help change the customer perception around of the Xbox One, following the "Summer of DRM" in 2013 and launching in China is one of those endeavors that they believe just might help.
However, the American-based company isn't going at it alone. Sony also wants in on the blossoming middle-class Chinese market, and they, too, have also made some measures to setup distribution partners in China.
Now it's time to see how well we can track the sales data and see how Microsoft performs with the Xbox One in China, especially following the complete fall-on-their-face performance that took place in Japan.
Staff Writer at CinemaBlend.
Your Daily Blend of Entertainment News
Thank you for signing up to CinemaBlend. You will receive a verification email shortly.
There was a problem. Please refresh the page and try again.