Xbox One Version Of Monochroma Scrapped For Wii U Release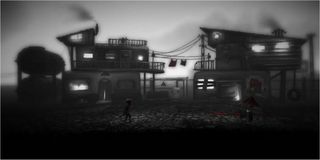 Monochroma is currently being Kickstarted and looking for support on Steam's Greenlight. However, the plan isn't to solely release on PC, they also plan to head to Sony's PlayStation 4 and when having to choose between porting to the Xbox One or Wii U, they easily went with Nintendo's Wii U. Woot!
Nintendo Enthusiast caught up with Nowhere Studio where they asked about a possible Wii U release, given that Nintendo is going over and beyond to win over the hearts and minds of developers, here's what a representative for the studio had to say...
Nice.
It looks like even though Microsoft made some changes to their indie self-publishing policy it still wasn't enough to win over everyone. Heck, the policy lacked enough clarity that when Gametrailers tried to ask Jonathan Blow and Phil Fish about the new policies that Fish blew them off and then got into an argument with Marcus Beer over Twitter and then killed Fez II.
Instead of trying to hop through hoops, Nowhere Studios is just sticking to what works and aiming to get their game on a system that doesn't restrict or prohibit them in how they expand and explore their vision.
As it stands, Nowhere Studios has accrued an impressive $27,000 via Kickstarter with a goal of $80,000. They still have just under a month to go and it's possible they could hit that goal with a bit of media exposure in the right circles. I imagine adding the Wii U to their development platform belt could easily expand the Kickstarter audience beyond PC gamers and maybe get a few Nintendonites on board as well.
For those of you unfamiliar with the game, Monochroma is an industrial dystopian platformer that combines the best of artistic interpretation through a monochrome palette with very few douses of color here and there, with a heavy mix of story-oriented platforming involving two brothers trying to get to safety.
The game's trailer is very fascinating and the look and design of the game is just marvelous. Seeing a game like this on the Wii U will be a real treat and hopefully the team can hit their goal. If you want to pledge some funds for this title, be sure to pay a visit to the official Kickstarter page and if you want to see this game on Steam, please be sure to like and favorite the game over on the official Steam Greenlight page.
Staff Writer at CinemaBlend.
Your Daily Blend of Entertainment News
Thank you for signing up to CinemaBlend. You will receive a verification email shortly.
There was a problem. Please refresh the page and try again.