Zen Pinball Venom Review: Upping The Challenge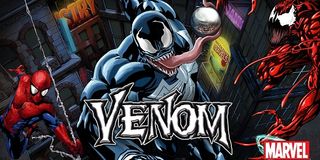 The folks at Zen Studios have finally returned to the pages of Marvel comics for their latest creation in Zen Pinball 2. It's themed after Spider-Man's black-suit-wearing nemesis, Venom, and it might just be the most difficult table they've ever created.
Keep in mind that difficulty is not a bad thing, mind you. Zen's tables are typically of a forgiving nature, with drains pushed far out to the side, open playfields and ramps that practically shoot themselves. Again, not a complaint. For such story-driven tables with lots of fun characters, animations and events popping up from time to time, it's a more rewarding experience to keep the ball in play as long as possible.
And that's not to say that the new Venom table, which releases this week for Zen Pinball 2, works hard to shove your ball out of play. But, thanks to a very cramped lower play field and ramps that require precision to master, this table requires far more strategy and controlled play than is typical of a Zen creation.
This being a Venom table, of course Spider-Man is going to have to show up and try to ruin your good time. The web-head and the symbiote share some great banter as the ball pings around the playfield, but the real trouble actually resides below. Just in front of the flippers is a containment unit where the evil Carnage resides, clawing at the glass in a futile attempt to be set free. If you're able to hit the bell tower ramp a handful of times, the supervillain will get his chance at exactly that, triggering a jailbreak table that occurs on its own, steeper playfield.
If you manage to get Carnege out of the hoosegow, he'll pop up onto the main table and try to cause problems for Spidey and Venom. In typical comic book fashion, the former enemies will have to work together in order to send him back to captivity, returning the game to regular play.
Speaking of that main playfield, it's broken up into two sections, with a lower zone that doesn't offer a lot of wiggle room for making mistakes. You can aim for the Black Suit drop targets to try and trigger a fun Venom multiball, or you can shoot for the ramps in order to score more points, unleash Carnage, visit the bumpers at the far back of the table or go to war with Venom on the upper playfield.
That upper field is a bit more open, but the ball moves fast here, meaning you'll have to have quick reflexes if you want to give Venom a run for his money, knocking him silly or scorching him with fire when he's not paying attention.
Along the way, you'll be visited by several other characters from the Spidey/Venom universe, with stories and events geared toward the history of the black symbiote suit that has a real knack for causing trouble.
Once again, Zen Studios has proven that they've always got something new hidden up their sleeves, combining familiar concepts and "toys" from real world pinball tables with ingredients of their own making. And as much as I love playing a physical pin, it's always nice when Zen's tables show off mechanics and challenges that simply could not be created in the real world.
It doesn't hurt, either, that the Venom table actually has some great voice acting and a rocking soundtrack, helping create that sense of a comic book action sequence playing out. And that's actually really appropriate for this table, in general. With its more demanding structure and those tricky ramp shots, you feel like you're actually trying to outsmart the table, maneuvering past its defenses in order to score even more points.
If you enjoy virtual pinball but crave a bit more challenge, then the Zen Pinball 2 Venom table has the cure for what ails ya.
This review based on a PlayStation 4 download code provided by the publisher.
Players: 1
Platforms: PS4, PS3, Vita, PC, Xbox One, Xbox 360, Mac, Mobile, Wii U
Developer: Zen Studios
Publisher: Zen Studios
ESRB: Everyone
Rating:
Your Daily Blend of Entertainment News
Staff Writer for CinemaBlend.