Zeno Clash 2 Screenshots Welcome In The New Year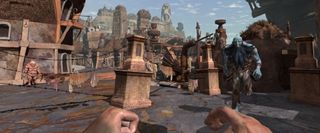 ACE Team and Atlus sent out some brand new screenshots for the upcoming first-person beat-e'm-up, Zeno Clash 2. The game offers itself as a follow-up to one of the more underrated but truly unique action titles to come out during the last generation. The game featured some other-worldly fisticuffs combat with a sleek aesthetic.
Terminal Gamer managed to get their hands on a set of brand new environment, enemy and location screenshots. The game is coming along quite nicely, especially with an upgrade in visual fidelity over the original game.
Zeno Clash 2 will obviously follow in the footsteps of the originla game, offering players a role-playing experience where you venture through a strange world, uncovering all sorts of strange and intriguing adventures.
Atlus has plans to publish ACE Team's first-person RPG for home consoles and PC sometime in 2013. The original game is on sale right now on Steam. You can check out the new screenshots of the game below.
Image 1 of 6