From Joseph Lee To JFK: A Celebration Of Ossie Davis's Highly Diverse Career
Nobody did it better than Ossie Davis. Nobody.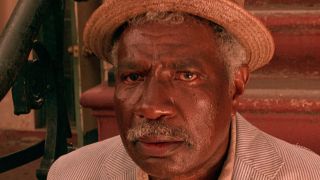 (Image credit: Universal Pictures)
You know, when I wrote my article on the best Sidney Poitier movies, I knew I would eventually get to Ossie Davis (birth name, Raiford Chatman Davis), as how could I not?
Besides being featured in some of Poitier's films (He made his film debut in Joseph L. Mankiewicz's No Way Out, which also starred Poitier), he was also a civil rights activist like Poitier, and often took on more distinguished roles rather than stereotypical ones, elevating the perception of Black people.
I've already celebrated John Leguizamo's highly diverse career, as well James Hong's unique career, so now, it's Davis's turn.
The Scalphunters (Joseph Lee)
I wish I had seen The Scalphunters when I wrote my article on seven great westerns that aren't traditional at all, as I would have definitely put this on the list. Directed by Sydney Pollack, and starring Burt Lancaster, Telly Savalas, Shelly Winters, and of course, Ossie Davis, The Scalphunters is about a not-too-bright fur trapper (Lancaster) who trades his furs for a smart slave (Davis), and the adventures they go on together, contending with a brutal "scalphunter" (Savalas).
Davis is hilarious in the role, often acting as a foil to all of the nonsense that the other characters get themselves into. It's a film that tackles bigotry in a way that a movie probably couldn't get away with today, but even as a slave, the actor is somehow the classiest character of them all. Oh, and there's also a great, comically long fight scene that rivals the "sunglasses" battle in They Live. It's wonderful!
Countdown At Kusini (Ernest Motapo)
Directed by Davis and filmed in Lagos, Nigeria, Countdown at Kusini is part action film, part tale of revolution. It's about a jazz musician who falls in love with a revolutionary, played by Davis's real-life wife, and frequent contributor, Ruby Dee, and the fight they embark on.
The star plays revolutionary leader, Ernest Motapo, and he gets to do all the inspiring scenes, while the other characters get to do all the action beats in motorboats and such. Davis is interesting in the film, as he always is, but I think his directorial skills are even more impressive here. If you can find this movie, watch it.
Do The Right Thing (Da Mayor)
Spike Lee's Do the Right Thing, which is still relevant today (and which I'm still, to this day, bothered did not get nominated for Best Picture at the 1990 Academy Awards), is about a single, hot summer day, and the racial tension that bubbles to the surface.
Davis plays resident old-timer (and sage), Da Mayor, who has lived on the block long enough to know that cooler heads always prevail (even though it's kind of hard to keep a cool head when everybody wants to tear each other apart). He plays the role perfectly, and even does that thing where he says the title of the movie to another character. It's a small performance, but a vital one.
Joe Versus The Volcano (Marshall)
In this romantic comedy directed by John Patrick Shanley, and starring Tom Hanks and Meg Ryan, a man is diagnosed with an incurable disease, and is offered a chance to live out the last of his days in luxury as long as he jumps into a volcano to appease some residents on an island. It's bizarre, and it's cute. Very, very cute.
Davis is only in the film for a short time, but he plays a clothes-obsessed chauffeur named Marshall who believes that clothes make the man. Somehow, he manages to steal the whole movie with his scenes, as he plays the role straight, but with impeccable comic timing for every line. Hanks is hilarious in the movie, but he can't beat Davis's deadpan approach. He just can't.
Grumpy Old Men (Chuck)
Directed by Donald Petrie, and starring Jack Lemmon, Walter Matthau, Ann-Margret, Burgess Meredith, and our boy, Ossie Davis, I still can't believe that this film, or its sequel, Grumpier Old Men, even exist. This is mainly because in our highly saturated superhero market these days, it's hard to fathom that a film about two old codgers fighting for the affection of an English professor was actually a huge hit back in the '90s.
Davis isn't in the movie for all that long, unfortunately, but he plays a lovable owner of a town bait shop. He's the charming old guy while Matthau and Lemmon are the crude old guys, making penis jokes and playing pranks on each other like they're still living out their days on The Odd Couple. Even as a kid, I loved this movie, and Davis's brief performance is definitely a reason for it. I'm still waiting on that Grumpy Old Men remake starring Eddie Murphy, by the way. Whatever happened to that?
Touched By An Angel (Erasmus Jones/Gabriel/Gabe)
Speaking of blasts from the past, do you remember Touched By an Angel? It was one of the most popular shows in the '90s, and it was about angels who come down to earth to fill people with the holy spirit and let them know that things are going to be okay. I found it to be pretty sappy as a kid, but I've grown to appreciate it more as an adult.
Davis was on it multiple times as Erasmus Jones, and as the archangel Gabriel. While many were perfectly fine with accepting Morgan Freeman as God in Bruce/Evan Almighty, I think it's pretty easy to see this man as an angel. He's one right now, in fact. So, of course he could play one on TV.
Dinosaur (Yar)
In this Disney Animation Studio movie from the 2000s, an iguanodon finds a new family with lemurs after a meteor shower. Davis plays the patriarch of the lemurs, named Yar.
Look, do you want to know how you've made it in Hollywood? You've made it when you're voicing a lemur in a Disney animated feature, and Davis does a good job of it. Of course he has to play the tough, leave-him-alone character who doesn't want any trouble, but behind his cold exterior, he has a heart of gold. I ask you, who would be better to play that role than Ossie Davis? I'm waiting.
Bubba Ho-Tep (Jack/JFK)
Lastly, and quite possibly the strangest film on this list, directed by Don Coscarelli, and starring Bruce Campbell (as Elvis), and Davis as a man who claims to be JFK, Bubba Ho-Tep is about a mummy terrorizing a senior citizen community, and the heroes who are out to stop him.
I know this might be embarrassing to admit, but Bubba Ho-Tep was my introduction to the actor. Here was a man who had all the poise of a gentleman, but was playing a man who claimed to be JFK. It was a ridiculous performance, but one that brought me down the Davis rabbit hole, which I'm still going down today. He was an amazing actor who was always full of surprises.
And, that's it. What's your favorite Ossie Davis performance? For more celebrations of other highly diverse careers, make sure to swing by here often.
Your Daily Blend of Entertainment News
Rich is a Jersey boy, through and through. He graduated from Rutgers University (Go, R.U.!), and thinks the Garden State is the best state in the country. That said, he'll take Chicago Deep Dish pizza over a New York slice any day of the week. Don't hate. When he's not watching his two kids, he's usually working on a novel, watching vintage movies, or reading some obscure book.