Martin Scorsese Reveals The Moment He Knew Ray Liotta Was Perfect For Goodfellas, And Security Guards Were Involved
It wasn't an audition that landed him the part.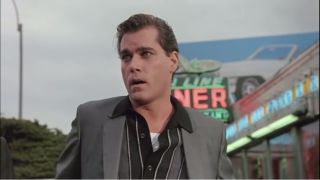 (Image credit: Warner Bros.)
Goodfellas wasn't the late Ray Liotta's first role, but it will be his most memorable for many. It's hard to imagine anyone else stepping into Henry Hill's olive-brown alligator loafers other than the Something Wild actor. The film's director, Martin Scorsese, put a lot of thought into who he wanted to play Hill, and he recently revealed the very moment he knew Liotta was perfect for the gangster part. Also, oddly enough, security guards were involved.
According to the filmmaker, Hill was a character that needed to be confident and charming but also had to have an edge of world-weary innocence. Though martin Scorsese knew Ray Liotta could pull off some aspects of the role thanks to his previous work, he had some reservations about casting the performer. The Taxi Driver director told Variety that his worries were put to ease not during casting or even on set but when the two crossed paths ahead of the beginning of production. The movie maker says it was how Ray handled a situation involving security guards that made everything "click." Scorsese told the outlet:
Martin Scorsese had been visiting Venice for The Last Temptation of Christ when the pair had their unexpected meet-up. The filmmaker's adaptation of Nikos Kazantzakis' portrait of Jesus created a tidal wave of controversy that required him to enlist additional protection due to death threats. However, according to Scorsese the Field of Dreams alum handled the situation like a pure gentleman. As the esteemed Oscar winner further recalled:
It was on May 26, 2022 that Ray Liotta died in his sleep at the age of 67. Celebrities like Seth Rogen and Jamie Lee Curtis paid tribute to the brilliant performer. Days after his passing, Liotta's fiancée, Jacy Nittolo, took to social media to honor the man she intended to marry, calling him the "most beautiful person inside and out" that she'd ever known. And of course, Martin Scorsese penned a heartfelt tribute to the actor, praising him for being "fearless" on the set of the now-iconic mob movie.
Regrettably, Ray Liotta and Martin Scorsese never collaborated again but, fortunately for cinema buffs, we'll always have Goodfellas and Liotta's beautifully layered performance as Henry Hill. Fans of the late actor might be interested in our list of Liotta's best work and how to watch it. You can also catch the actor's final performances in Elizabeth Banks' "insane" Cocaine Bear and an untitled Charlie Day movie. Meanwhile, Scorsese's next film, Killers of the Flower Moon, is set to be released in May.
Your Daily Blend of Entertainment News
Ryan graduated from Missouri State University with a BA in English/Creative Writing.