12 Days Of Christmas: A Christmas Story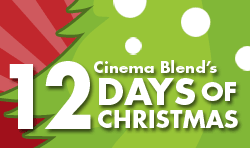 It's time to celebrate the Christmas/ Chanukah/ Kwanza/ Festivus Holiday season, so here at Cinema Blend we're enjoying Twelve Days of Christmas. Yes, we know traditionally the "12 days" start with Christmas, but we plan on being celebrated out by that time, so we're pushing the twelve days leading up to the holiday.
Here at Cinema Blend, we're celebrating by revisiting some of our favorite holiday movies. These aren't the 12 best movies out there by any means, just twelve of our favorites. Some of them you might enjoy like we do. Others you might want to check out for the first time.
On the twelfth day of Christmas, my true love gave to me…
A Christmas story, told over, and over again
As mentioned above, this list hasn't intended to be ranked in any order, so there are other movies on here I love more than A Christmas Story. I would be remiss if I didn't list this one on Christmas Eve, however, considering this is the day you'll get a chance to see it, and see it, and see it.
I know A Christmas Story wasn't well received in theaters, building up a kind of cult following over the years. Whoever decided that the Turner Network should broadcast the movie repeatedly for 24 hours was both insane and brilliant, however. Thanks to that decision, the movie has gotten mass exposure and become something Christmas just wouldn't be the same without.
There's a certain charm to Jean Shepard's tale of a little boy and his wish for a BB gun. I think it's that, despite the time period, that wish for the toy we are told we can't have is universal enough that everyone can relate to it. So, when little Ralphie finally opens his beloved Christmas present, we remember what it was like to finally get that much-desired toy.
That classic holiday moment… Another movie that's filled with classic moments, but it doesn't get much better than when Ralphie discovers there's one more present under the tree, tucked around the corner.
Read all of Cinema Blend's 12 Days of Christmas features in other sections by clicking here.
Your Daily Blend of Entertainment News