12 Days Of Christmas: National Lampoon's Christmas Vacation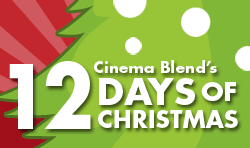 It's time to celebrate the Christmas/ Chanukah/ Kwanza/ Festivus Holiday season, so here at Cinema Blend we're enjoying Twelve Days of Christmas. Yes, we know traditionally the "12 days" start with Christmas, but we plan on being celebrated out by that time, so we're pushing the twelve days leading up to the holiday.
Here at Cinema Blend, we're celebrating by revisiting some of our favorite holiday movies. These aren't the 12 best movies out there by any means, just twelve of our favorites. Some of them you might enjoy like we do. Others you might want to check out for the first time.
On the seventh day of Christmas, my true love gave to me…
A holiday celebration only the Griswolds could manage
Most of the classic holiday movies we all love are tributes to the ideas of the holidays. They glorify concepts like "peace on Earth" or "goodwill toward men" and give us something to strive for. We all know that's not quite realistic, however. Most family holidays include in-fighting, bickering and at least one person in tears.
The same family that showed the less-than-perfect family vacation manage to make most people's holiday times pale in comparison to their Christmas Vacation. The Griswolds not only have to deal with all the normal holiday problems, but also the disappointment of holiday bonuses, the search for the "perfect gift," and, of course, the unexpected other family that shows up without notice.
Yes, watching Christmas Vacation certainly can make you feel better about your own holiday trials and troubles. Of course, if you had to deal with Cousin Eddie and his backwoods branch of the family tree, you'd probably go ballistic too.
That classic holiday moment…The lighting of the house: 250 strands of lights! As always, though, it's getting the little buggers to work at the right time that matters.
Read all of Cinema Blend's 12 Days of Christmas features in other sections by clicking here.
Your Daily Blend of Entertainment News