12 Days Of Christmas: Scrooged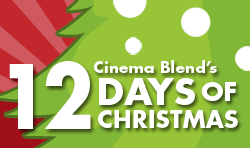 It's time to celebrate the Christmas/ Chanukah/ Kwanza/ Festivus Holiday season, so here at Cinema Blend we're enjoying Twelve Days of Christmas. Yes, we know traditionally the "12 days" start with Christmas, but we plan on being celebrated out by that time, so we're pushing the twelve days leading up to the holiday.
Here at Cinema Blend, we're celebrating by revisiting some of our favorite holiday movies. These aren't the 12 best movies out there by any means, just twelve of our favorites. Some of them you might enjoy like we do. Others you might want to check out for the first time.
On the ninth day of Christmas, my true love gave to me…
A nasty network executive getting haunted
As we mentioned before, A Christmas Carol is so classic it deserves several places on our list. Previously we went with the family friendly Muppet Christmas Carol. This time we go a little darker with one of my favorite Bill Murray performances outside of Ghostbusters.
Murray's Scroogish figure Frank Cross is an absolute classic from his first utterance: "Oh my gosh, does that suck," (describing the hard work of his own employees). At first there doesn't seem to be anything redeemable about Cross, but as the movie goes on, much like Ebenezer Scrooge, we discover there's a kind heart underneath his corporate exterior. What makes this movie perfect is that Murray is allowed to deal with everything with his typical sarcastic wit.
But it's not just Murray that makes this movie pure gold. Bobcat Goldthwait in the Bob Cratchet role as a down-on-his-luck employee fired by Cross. John Forsythe, David Johansen, and Carol Kane as the visiting spirits. And, of course, cameo appearances galore in the movie within the movie version of A Christmas Carol.
That classic holiday moment… What isn't classic about this movie? Every word that comes out of Murray's mouth is absolute gold.
Read all of Cinema Blend's 12 Days of Christmas features in other sections by clicking here.
Your Daily Blend of Entertainment News
Thank you for signing up to CinemaBlend. You will receive a verification email shortly.
There was a problem. Please refresh the page and try again.