15 Big Differences Between The Gone Girl Book And Movie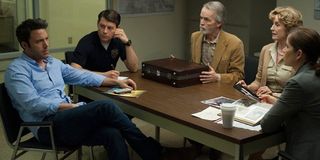 David Fincher has a way with adapting books into movies that retain the original plots of their literary counterpoints while also having their own Fincher-esque style and flair. This week, the excellent director released an adaption of Gillian Flynn's Gone Girl, a movie with plenty of uncomfortable humor and an excellent pace that should keep audiences on the edge of their seats for the film's lengthy two and a half hour runtime.
While Fincher stays pretty faithful to Flynn's narrative, introducing a good portion of the twists the writer wove into her story of relationships, betrayal and murder, there are plenty of changes that were made that readers will notice when they watch. Most of these changes are made to service the length of the film, although a few are made to give the audience viewpoints they could not have gotten from the book, which is told through Nick and Amy's perspectives. Overall, Nick, Amy, Go, Boney and Gilpin remain characters who will stick with fans, no matter whether those fans are invested in the story on the screen or within the pages of the book.
Following are the 15 biggest changes I noticed in my screening of Twentieth Century Fox's Gone Girl. Plenty of other details were changed, of course, and feel free to remark on any changes you feel may have been more noticeable. There are many spoilers in the Gone Girl book to movie comparison. Do not delve in if you want the film to be a surprise.
Nick proposes at Amy's parents' Amazing Amy book event. As happens in the story, the party is used to show how selfish Amy's parents are; however, Nick swoops in to save the day by proposing to Amy in front of a bunch of reporters. It's so cute, it'll make you gag.
Nick goes to the beach the morning of Amy's disappearance. In the book, he actually sneaks away to spend time with Andie and to read back issues of his men's magazine in an abandoned garage, which just might be the most pitiful thing ever.
Noelle Hawthorne shows up when the detectives are first searching the house. We find out early on that Amy spent an extensive amount of time prepping Noelle to freak out and claim Nick killed her. One of the great things about the movie is that we are out of Nick's head, so we are able to see more of the investigation.
Boney and Gilpin play a much bigger role in the movie. Patrick Fugit's Gilpin enjoys sparring with Boney, and the two's exchanges add plenty of comic relief to a move that is often a dramatic rollercoaster of a tale.
The mall scene is revised with Boney and Gilpin. It's pretty faithful to the book scene, with the two guys reciting the Gettysburg Address and plenty of drug users moving in and out of the shadows. However, it's not Nick and his dad who take baseball bats and head into the empty mall. It's the police who later tell Nick that Amy was looking to purchase a gun.
Many of the fights Nick and Amy supposedly have are different. For instance, there is no fight over packing the mattress when they move to Missouri. Additionally, movie Amy's diary notes Nick has huge spending habits when he purchases a laptop and TV after he loses his job. This makes his incredible spending more credible later on.
Amy's clues never take Nick to Hannibal in the movie. We don't get to see the additional clue from Amy that is another loving sound note that can also be seen as a giant middle finger if read differently. In the book, Amy's purse is later found at the location, helping to cement Nick's fate even further.
A few interesting characters are cut out. This includes Tanner Bolt's wife, who is interesting because she is super tall and African American, which Nick sees as unexpected, since in the book Bolt is a white dude and Nick expects her to be blonde and waifish. Desi's mom is also cut out of the book, which means we don't get to hear her scream about Amy being the crazy one near the end.
Amy doesn't cut herself when setting up the murder scene. Instead, she siphons some blood out of her arm and pitches it onto the floor before she cleans it. This makes it look like head trauma, and also looks a lot less painful for the character.
Amy's crazy antics have gone on for much longer than the movie explores. The guy who got framed for rape speaks out, but we also know more about Desi's past with Amy, as well as another girl Amy framed as a stalker when they were still schoolchildren. Her pathos extends back to childhood.
Amy's plan begins to go awry when she is playing mini golf. She drops her moneybag, and the losers she is spending time with see how full the bag is. In the book, she is much more careless about money, pulling out cash to pay debts and more.
Nick never tries to explain to the detectives how Amy is framing him. In the book, Tanner Bolt explains Nick's side. In the movie, he keeps his mouth shut. Despite this, Boney still feels things are off with Nick's behavior and the disappearance as a whole.
Amy brutally catches Desi in the jugular with a box cutter during sex. In the book, she spends more time with Desi. They are friends, and he allows her to have sleeping pills. She then crushes those into his drink to make him pass out before killing him. Maybe that's what Fincher meant when he said the ending was changed early on?
Nick, Boney and Go don't pour over Amy's story, hoping for a mistake. Instead, Boney bows out, saying there isn't much she can do and opening up a perfect opportunity for Tyler Perry's Bolt to get in a joke about how crazy the couple is. Nick seems a lot more stuck.
In the movie, Nick gets the last word. After all, we think he has earned that.
Photo Credit@Twentieth Century Fox
Your Daily Blend of Entertainment News
Reality TV fan with a pinch of Disney fairy dust thrown in. Theme park junkie. If you've created a rom-com I've probably watched it.