20 People Have Done The Creepiest Thing Possible After Watching Pulp Fiction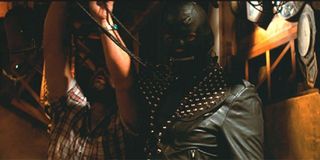 The 20th anniversary of Quentin Tarantino's legendary cinematic opus, Pulp Fiction, is almost upon us. Not only did it introduce the world to arguably the two coolest gangster henchmen in cinematic history, but its dark and twisty journey through the seedy underworld of Los Angeles life proved that Tarantino was one of the most vivacious and provocative directors of his era. He managed to achieve all this even though his film included a character simply called The Gimp - a character that is part of one of the strangest backstories you've ever heard about the revolutionary indie title.
Steve Hibbert, who played Pulp Fiction's Gimp back in the early 1990s, has been discussing his role in the film to celebrate its impending anniversary, and he's revealed that he has been privy to some quite disturbing responses to his performance. The actor has revealed that when Pulp Fiction was released, he received around 20 phone messages from people who recognized that he played the unique character and queried about meeting up with him. Asked by Vulture if he ever never needed to use his performance in the Tarantino film as a pickup line, Hibbert answered,
For those of you who haven't seen Pulp Fiction or need to be reminded of the Gimp's presence in the multi-layered crime-comedy, you can watch a clip of his antics below.
Hibbert went on to note that he was even asked, "Do you do that kind of stuff in real life?" before he confirmed that he never actually met up with any of the people who had gone to the extreme effort of getting in contact with him. He even protested that he is "the last person in the world you'd think would play the Gimp!" and that he actually became semi-famous because of the role - so much so that he had to make his number unlisted because of the constant calls. I don't know what Hibbert is complaining about, though. Surely he should take their efforts to get into contact with him as a compliment. A truly terrifying compliment.
Your Daily Blend of Entertainment News