The 40-Year-Old Virgin Ending: Judd Apatow Tells Us Why He Went Out On A Musical Note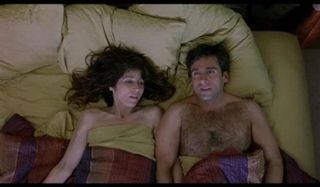 Since we started writing this feature series on movie endings, we've covered a wide variety. We've gone over confusing endings, twisty endings, debatable endings, and even a uniquely-structured ending. This time around, however, we have something very different: the out-of-left-field ending. That's because we're now taking a closer look at the conclusion of Judd Apatow's fantastic 2005 comedy, The 40-Year-Old Virgin.
What exactly went down? Why did Steve Carell's character all of a sudden start singing? How was the sequence conceived? Who taught all of the actors how to dance? We have all of the answers to those questions and more, so read on!
How They Came Up With The Idea
Completely random as it may seem, there actually is a very reasonable explanation for why The 40-Year-Old Virgin ends with its "Let The Sunshine In" musical sequence – and it's really all because of a suggestion that director Judd Apatow received from none other than comedy legend Garry Shandling.
When I had the chance to sit down for a one-on-one interview with Judd Apatow last month at SXSW, I took the opportunity to ask him about the fun ending of The 40-Year-Old Virgin, and he gave me some great insight to the development of the sequence from beginning to end. As it turns out, the idea for the musical conclusion initiated because of some very important advice that he got from Shandling – whom the Trainwreck director first worked with as a writer on The Larry Sanders Show. Initially, the ending of the movie left Apatow flummoxed, but it got him and star Steve Carell brainstorming, and that's when they found inspiration. Said the filmmaker,
During filming, the production brought on choreographer Anne Fletcher to give all of the actors their various dance moves, and while the team knew that they had something special and awesome, that idea was 100 percent confirmed when the movie was cut and screened to test audiences. Explained Apatow,
Now I'm sure you'll want to watch this fantastic ending, so head over to Page Two!
The Film's Climax
As we arrive at the denouement of The 40-Year-Old Virgin, everything is working out quite perfectly. Though he has spent almost his entire life honestly afraid of intimacy and closeness, the nerdy Andy Stitzer (Steve Carell) finally finds someone who he feels he can be close to and truly love in Trish Piedmont (Catherine Keener). Thanks to her fantastic eBay skills, they're able to afford a rather expensive outdoor wedding, and they are brought together in union in front of all of their friends, families and loved ones.
After a good deal of joyousness and ceremony, it finally comes time for the wedding night, and, of course, Andy's time to lose his virginity. After a comedic delay involving an overly passionate custodian and a flood buffer, finally the husband and wife get to lie together for the first time. A quick time jump demonstrates that this love making session is quite brief, but Andy proves himself a man of enthusiasm and stamina by immediately being ready for round two. After another time jump – this one clocking in at two hours and one minute – Andy and Trish are both near catatonia from exhaustion, and the loving wife turns to her husband for her thoughts. This is where the music begins.
Though he seems near dead for a half minute, eventually Andy does open his mouth, but what he says it only sort of a response to Trish's question. Instead, he begins to croon, "When the moon is in the seventh house, and Jupiter aligns with Mars" – famously the first lines of "Aquarius/Let the Sunshine In" from the 1967 musical Hair. It doesn't stop there, though, as Andy not only continues to sing into the camera, but the sequence eventually evolves into a full on musical number, with the entire cast come together, dancing in a park, and singing about the glory of the Age of Aquarius.
We've had the chance to write about multiple movie endings so far in this feature series, but The 40-Year-Old Virgin is arguably one that just demands to be rewatched. The whole thing is extremely ridiculous, but the whole thing works just because of an undeniable energy that the sequence has. It's very, very clear that the entire cast of this amazing 2005 comedy had an absolute blast making it, and nowhere in the movie is that better captured than when they are prancing around to the sounds of Hair. What are you waiting for? Hit the play button below!
The 40-Year-Old Virgin is now available on Blu-ray and DVD, and for digital download.
Assistant Managing Editor
NJ native who calls LA home and lives in a Dreamatorium. A decade-plus CinemaBlend veteran who is endlessly enthusiastic about the career he's dreamt of since seventh grade.
Your Daily Blend of Entertainment News
Thank you for signing up to CinemaBlend. You will receive a verification email shortly.
There was a problem. Please refresh the page and try again.