The 5 Men Who May Direct Star Trek 3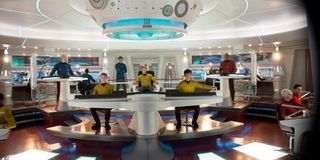 There has been a lot of chatter over who will be directing Star Trek 3 after Robert Orci stepped down. While Star Trek alum Jonathan Frakes wasn't shy about his desire to direct the new Star Trek film, for quite a while Edgar Wright was leading the pack of directors on the shortlist to helm the third film. Now we've got a new list of potential directors from Paramount, and it seems to be a new batch of names entirely including Rupert Wyatt, Morten Tyldum, Daniel Espinosa, Justin Lin, and Duncan Jones.
As Deadline reports, Paramount has released the names of five men being considered to fill Orci's former role as director. Sitting on the top of the list isn't Edgar Wright, but instead director Rupert Wyatt. Wyatt most recently worked with Mark Whalberg on his new film, The Gambler, but Wyatt is certainly no stranger to the science fiction genre. Wyatt is most notable for directing the film The Rise of the Planet of the Apes.
Apart from Wyatt, Paramount is also considering some rather interesting names. Next on the list is Norwegian director, Morten Tyldum. Tyldum most recently directed the Oscar shoe-in, The Imitation Game with Benedict Cumberbatch and Keira Knightley. Another director candidate is Daniel Espinosa. Espinosa most recently directed Safe House with Ryan Reynolds and Denzel Washington. Finally, the last two names on the list are Fast and Furious and Bourne Legacy director Justin Lin, and Source Code director Duncan Jones.
The most interesting thing about this list is the vast array of directorial styles being represented. None of these directors seem to specialize in science fiction films, and even though Wyatt directed Rise of the Planet of the Apes, that film has an entirely different atmosphere than the one we get on the USS Enterprise. Both JJ Abrams, the director of the first two Star Trek films, and Robert Orci had a very rich science fiction background on their resumes. It will be interesting to see the different perspective these five men could bring to the Star Trek films.
Of course, there is quite a lot of talk that this next Star Trek film will hearken back to the classic plots in attempt to draw those classic Star Trek fans back in who weren't crazy about Edge of Darkness. Perhaps in pursuing directors who have their hands mostly in dramatic, epic, or action roles they can move away from the lens flare, and bring audiences back to the original heart of Star Trek.
It will also be interesting to see what is happening with Edgar Wright. He seemed like a no-brainer to direct this film (or maybe I was just blinded by my Cornetto Trilogy love). Regardless of your feeling on the Cornetto Trilogy and other Wright films, it did seem that the studio was courting him heavily to direct Star Trek 3. The release of this list makes it seem as though Wright is no longer even in the running to direct. I'll be interested to find out if he ever was being seriously considered, and why they ultimately chose to move away from him.
Star Trek 3 is set to hit theaters next year in conjunction with the Star Trek 50th anniversary.