This Beloved Star Trek Veteran Is Lobbying Hard To Direct Star Trek 3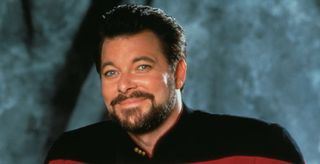 Now that Robert Orci has officially bowed out of directing Star Trek 3, there is a great deal of speculation in the air regarding who will be directing instead. Though Edgar Wright has been said to be on the shortlist of directors, Twitter has been campaigning hard with the hashtag #BringInRiker in efforts to get Star Trek alum Jonathan Frakes in the Star Trek 3 director's chair. Turns out, Frakes thinks this idea is kind of awesome.
Jonathan Frakes, who fans might know a bit better as Commander William T. Riker in Star Trek: The Next Generation, is pretty excited about the prospect of potentially getting to direct Star Trek 3. This wouldn't be Frakes' first foray into a directorial role for a Star Trek film. He's already directed Star Trek: First Contact and Star Trek: Insurrection. Frakes is certainly not beating around the bush when it comes to his desire to direct Star Trek 3 either. In addition to telling Komo Radio that he's already envisioning himself as the official Star Trek 3 director, he's also trying to get others to share in his directorial dreams as well. Frakes has actually reached out to J.J. Abrams to express his desire to direct Star Trek 3, and his agent has reached out to Paramount to let them know Frakes is up for the job.
Nothing has been made official, obviously, and most of the chatter is still surrounding Edgar Wright taking on the directorial role. However, Paramount is certainly keen to keep the film on schedule to ensure the release of Star Trek 3 coincides with Star Trek's 50th anniversary in 2016. With rumors swirling about cameos from both Leonard Nimoy and William Shatner in Star Trek 3, I feel like having Frakes direct the film - bringing yet another Star Trek alum onto the project - would certainly be a great way to celebrate fifty years on the Enterprise.
As fantastic as it would be to see Jonathan Frakes direct Star Trek 3, it will certainly be a bit of an uphill battle to officially Bring In Riker. Frakes is well aware that the chances of him actually directing the film are quite slim, but strange things do happen in Hollywood every day. He's doing his best to keep his cool as he waits for an official announcement of the new Star Trek 3 director, saying, "I'm trying to keep the lid on how excited I am about the possibility, knowing it's such a long shot. But there's nothing I would like better."
I have to be honest: I am pretty excited at the prospect of Edgar Wright directing Star Trek 3. That being said, I think there would certainly be something very special about having Frakes calling the shots. While Wright certainly loves the material, Frakes has been a very active part of the Star Trek family for years. Given the franchise's half century anniversary, it would certainly feel right to bring back as many faces from the earlier years of Star Trek as possible.
We will have to see who Paramount ultimately selects to direct the film. I can't imagine that they will delay their directorial announcement for much longer, given the fact that the studio is still actively pushing for a 2016 release. If you want to show your support for Frakes as director, be sure to Tweet using the hashtag #BringInRiker.
Your Daily Blend of Entertainment News
Your Daily Blend of Entertainment News
Thank you for signing up to CinemaBlend. You will receive a verification email shortly.
There was a problem. Please refresh the page and try again.