The 5 Most Shocking Oscar Losses Of 2015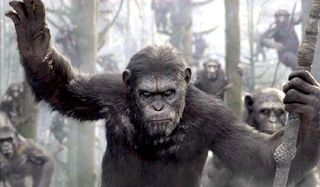 Every year, the Oscars proves itself to be an extremely tricky affair. While many of the declared victors are ones that can be universally agreed upon – like J.K. Simmons taking home this year's Best Supporting Actor prize for Whiplash - there are still other choices that left us scratching our heads.
But of all the categories featured during tonight's ceremony, which race featured the most shocking losses of the bunch? We've singled out the top five, and we've listed them below for your judgment. Did the Academy make the right call, or did they screw it up royal? You decide!
Best Actor: Michael Keaton
With a total of four awards including Best Picture, Alejandro González Iñárritu's Birdman was definitely the big winner of the night, but sadly it failed to declare victory in one category where everyone was really hoping it would win. For a while it looked like Michael Keaton's big comeback story would be punctuated with an Oscar statue for him to put on his mantle, but the voters instead chose to go with Eddie Redmayne's portrayal of Stephen Hawking in James Marsh's The Theory of Everything. At the very least, Keaton did get a moment in the spotlight during Birdman's Best Picture speech, and he'll surely be around for many years to come as well.
Best Animated Feature: How To Train Your Dragon 2
With Phil Lord and Chris Miller's The LEGO Movie mysteriously excluded from the Best Animated Film category, and Pixar not having an entry in the 2014 race, this really looked like it would be DreamWorks Animation's year. After all, last month Dean DuBlois' How To Train Your Dragon 2 won big at the Golden Globes, and it even won six prizes at the Annie Awards (including Best Animated Feature). And yet, Disney was still able to prevail, and Don Hall and Chris Williams' Big Hero 6 took home the golden trophy. The universe made it seem like this was going to be the first year since 2001's Shrek that DreamWorks would take the top prize, but evidently the Oscar voters felt differently.
Best Makeup/Hairstyling: Foxcatcher
Oscar winners Frances Hannon and Mark Coulier truly did some fantastic work on Wes Anderson's The Grand Budapest Hotel, but the fact that Foxcatcher's Bill Corso and Dennis Liddiard didn't walk away with the Best Makeup/Hairstyling Academy Award is an honest shock. They not only did tremendous work with Steve Carell in the film – turning him into the morphed, creepy monster that is John DuPont and playing a huge role in his Best Actor nomination – but the more subtle work done on Channing Tatum was also genius (take a look at his ears next time you watch the movie). Hannon and Coulier deserves tremendous credit for adding about 50 years to Tilda Swinton's visage, but I still thought Foxcatcher had it in the bag.
Best Visual Effects: Dawn of the Planet of the Apes
Matt Reeves' Dawn of the Planet of the Apes is a film that may one day be seen as a title that helped usher us into a whole new world of filmmaking, where actors would no longer be limited by their physical form and could become believable as absolutely anything. And yet, the Academy Awards decided to give the prize to Christopher Nolan's Interstellar. What surprises me about this one is that Nolan really prided himself on the amount of practical effects that went into the making of his movie – downplaying the use of VFX – while Reeves' entry was first and foremost proud of its heavy CGI use. It seems completely backwards, but I guess that's just the way that the Academy Awards are sometimes.
Best Original Screenplay: Boyhood
This was a rare year where none of the films nominated for Best Picture wound up leaving the ceremony empty handed, and while Richard Linklater's Boyhood did get a big win thanks to Patricia Arquette winning the Best Supporting Actress prize, I'm surprised that the Academy didn't also didn't give the 11-years-in-the-making the award for Best Original Screenplay. With Birdman getting Best Picture, awarding Boyhood for its writing would have been a great way to celebrate its unique nature and the risky process the feature took to get made – something that one can imagine the Academy being interested in doing. Sadly, that didn't happen, and the screenplay category became just another area where Alejandro González Iñárritu's film got the upper hand.
NJ native who calls LA home; lives in a Dreamatorium. A decade-plus CinemaBlend veteran; endlessly enthusiastic about the career he's dreamt of since seventh grade.
Your Daily Blend of Entertainment News
Thank you for signing up to CinemaBlend. You will receive a verification email shortly.
There was a problem. Please refresh the page and try again.