5 Things The Golden Globe Winners Predict About The Oscars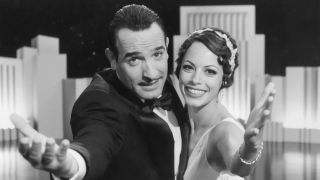 (Image credit: The Weinstein Company)
Sure, the Golden Globes are plenty of fun on their own, a chance to see TV stars and movie stars hobnobbing together, fashion that's a little bit riskier than other awards show, and of course, what happens when celebrities are offered limitless champagne and put on camera. But if you follow the awards season obsessively, you know that the Globes are really just a warm-up for the Oscars, giving nominees a chance to practice the speeches they hope to give again a month later, and letting those of us in the public start choosing people we want to root for. Even if you haven't seen The Artist or even heard of it, you saw that adorable dog doing tricks on the stage, and somehow that matters when you're trying to win Oscars.
So who came out on top during last night's Globes in terms of future Oscar hopes? Read below to find out why, even though nobody who votes on the Golden Globes is a member of the Academy, five of last night's winners in particular can expect a big boost in their Oscar hopes. With Academy Award nominations coming out on January 24, and the ceremony happening a month later on February 26, we've got a lot of awards season to get through still-- but if you watched the ceremony last night, you have some clues about where it's headed.
1. Meryl Streep really might win that third Oscar.
General wisdom has been that it's a neck-and-neck race between Streep and Viola Davis for Best Actress this year, only emphasized, oddly, by how much the two women genuinely seem to like each other. Had Davis won last night, it might have cemented her perceived status as a frontrunner-- she won the Critic's Choice Award just a few days earlier-- but instead it went to Streep, making it once again a real horserace. This is far from the first time Streep has been in this position-- remember how many people were convinced she'd win for Julie & Julia before it suddenly turned into Sandra Bullock's year?-- but this year it seems more competitive than ever. Look to January 29's SAG Awards for a little more clarity, but even on Oscar night we may not be able to accurately predict a winner.
2. Octavia Spencer is the choice Supporting Actress nominee from The Help.
To be fair, this was already pretty clear given her Critics Choice win, but it still seemed possible to me that last night her co-star Jessica Chastain could take home the statue, for her amazing body of work in 2011 as much as her actual performance in The Help. But Spencer coupled her win last night with exactly the kind of acceptance speech that makes people want to see more of you. Her Oscar nomination is pretty much a guarantee at this point, and after last night, the win seems pre-ordained as well.
3. The Artist's Jean Dujardin is capable of just about anything.
When he first started the publicity rounds in Toronto last September, Dujardin spoke almost no English-- when I interviewed him, it was through a translator. But grueling months of the publicity circuit have equipped Dujardin enough in our language that he muddled his way through a charming, heartfelt acceptance speech-- and one that might endear him to enough Academy voters to make him real competition for the likes of George Clooney and Brad Pitt. Clooney, of course, gave a great speech as well, but when the two of them are inevitably nominated against each other at the Oscars, it might be more of a competition than we thought.
4. Woody Allen does not have to suck up to win.
When Nicole Kidman thanked the Hollywood Foreign Press on behalf of no-show Best Screenplay winner Woody Allen, it was abundantly clear he simply couldn't be bothered to show-- something that will likely be the case at the Oscars as well. But Midnight in Paris is so beloved this year that it might not matter there anyway. He'll be up against some stiff competition like The Artist for Best Original Screenplay, but it's hard to imagine someone voting for a silent movie over one of Allen's best comedies in years. He won't be there to accept his award either, but it seems worth handing him his first Oscar since 1987 anyway.
5. You can say Best Picture is down to The Descendants and The Artist, but really, it's The Artist.
Sure, the Alexander Payne-directed film took home the final prize of the night, and Best Drama is generally considered the most prestigious of the Globe prizes (at least it was the year Evita won Best Comedy or Musical). But take one look at Harvey Weinstein sitting like a power broker surrounded by The Artist's actors, or Uggie the dog doing tricks onstage when the movie won Best Comedy-- you know it's The Artist's year, and The Descendants is a very respectable winner likely to get steamrolled by a bunch of charming French people on Oscar night. When The Artist won Best Score at the very beginning of the night, it was clear nothing is going to be able to stop it.
Your Daily Blend of Entertainment News
Staff Writer at CinemaBlend